Outreach and Recruitment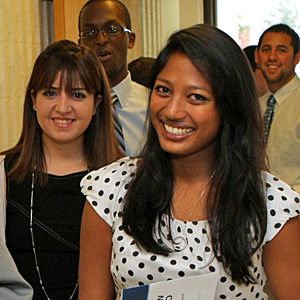 The School of Medicine's Office of Diversity and Inclusion focuses on recruiting diverse faculty and students and identifying, supporting and providing mentoring for under-represented, culturally diverse members of the community who are interested in pursuing careers in healthcare. We feel strongly that the future physicians of this country need to reflect the growing diversity of our surrounding community and our country at large.  At Hofstra North Shore-LIJ School of Medicine we believe that diversity in health care will help to address the many health disparities witnessed in underserved and minority communities.  We have developed an inclusive environment that welcomes all students and encourages exchanges of ideas, perspectives and life experiences that we feel will enhance the educational experiences of all our students.  We are committed to fostering a partnership with our communities so that we can understand their cultures and the way they view healthcare. This will facilitate the delivery of excellent, culturally competent, patient- and family-centered healthcare.
Outreach and recruitment also includes visits to institutions with large minority applicant pools, attendance at conferences that attract minority students, invitations to speak to student groups/organizations and coordinating several open houses at the School of Medicine each year. 
The Office also serves to offer guidance to students and assist them in becoming more competitive applicants, addressing any questions they may have and encouraging them to pursue their dream despite challenges they may face. Among the School of Medicine's many efforts, is the creation of the Medical Scholars Pipeline Program, a program designed to increase diversity of the healthcare workforce by exposing interested high school students from underprivileged backgrounds to various healthcare professions leading them through a rigorous five-week academic course. The five-year Medical Scholars Program begins with rising high school juniors and continues until they reach their junior year in college.