Mark Jarrett, MD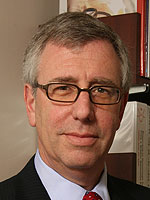 Chief Medical Officer, Staten Island University Hospital
Medical Students Subcommittee Co-Chair
Dr. Mark Jarrett is currently Chief Medical Officer of Staten Island University Hospital. He also serves as the Designated Institutional Official for Graduate Medical Education and Chairman of the Graduate Medical Education Committee. He is a Clinical Professor of Medicine and Clinical Associate Dean at State University of New York Downstate Medical Center.
Dr. Jarrett earned his BS degree from Muhlenberg College in 1971 and his MD degree from New York University School of Medicine in 1975. He received an MBA degree from Wagner College in 1994.
Dr. Jarrett is certified by the American Board of Internal Medicine in Internal Medicine, Rheumatology, and Geriatrics. In addition, he is certified by the American Board of Quality Assurance and Utilization Review Physicians. Dr Jarrett is a Fellow of the American College of Physicians and the American College of Rheumatology.
Past publications focused on the immune response in systemic Lupus Erhythematosis. Current research focus is on quality issues in patient care.