Alan H. Cooper, Ph.D., MBA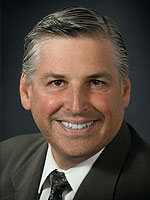 Alan Cooper is the Vice President for the Center for Learning and Innovation of the North Shore- Long Island Jewish Health System. His responsibilities include development and implementation of the Health System's learning and change management strategies, and the development and implementation of a system wide Service Excellence strategy.  He is also responsible for system-wide operational performance solutions through six sigma and lean methodologies, as well as oversight of the system's corporate university. He has held several positions within the Health System including Administrative Director for Emergency Services.
Dr. Cooper holds a Ph.D. in Research Psychology and an MBA with a concentration in organization development.  In addition to his responsibilities at the health system and School of Medicine, he has an Adjunct Associate Professor appointment at Hofstra University's Zarb School of Business.  Dr. Cooper is a nationally recognized speaker on topics that include; Building a World Class Learning Organization, Leadership and Leadership Development, Six Sigma and Lean in Healthcare, Measuring Learning Outcomes, and Using Education to Drive Exceptional Service Outcomes. He has authored several articles and book chapters including a recent chapter on Leadership Development in Health Care. 
Dr. Cooper is a member of the American Society for Training and Development, The American College of Healthcare Executives, The International Society of Six Sigma Professionals, the American Psychological Association, the Society for Industrial and Organizational Psychology, the Society for Medical Simulation and a senior member of the American Society for Quality.