Samara Ginzburg, MD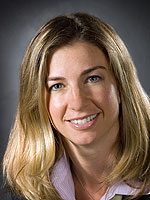 Samara Ginzburg, MD is an Associate Dean for Medical Education, director of case-based learning, and a course director for the patient, physician and society course at the Hofstra North Shore-LIJ School of Medicine at Hofstra University. Dr Ginzburg is overseeing the development of the case-based studies used in the medical school's innovative curriculum, which are a form of problem-based learning cases that will be used to teach key science concepts and ground students in understanding disease and solving clinical problems. Dr. Ginzburg is also developing the patient, physician and society course, which will occur during the first 100 weeks of medical school, in which students will form meaningful, longitudinal relationships with patients in the community, as they progressively build clinical skills. Dr. Ginzburg continues to serve as the director of undergraduate medical education for the North-Shore-LIJ Health System.
Previously, Dr. Ginzburg was director of case-based learning for the Department of Medicine's Accreditation Council for Graduate Medical Education's Education Innovation Project at Long Island Jewish Medical Center. In addition, she was involved in both medical resident education and endocrine practice.
Dr. Ginzburg received a Bachelor of Science degree in biopsychology from the University of Michigan, and a medical degree from the Mount Sinai School of Medicine. She completed a residency and chief residency in internal medicine, followed by a fellowship in endocrinology, diabetes and metabolism at Mount Sinai Hospital.