Communications Office
The Office of Communications advances the mission of the Hofstra North Shore-LIJ School of Medicine by raising awareness of our growth and influence in academia, by highlighting faculty contributions and expertise, and by celebrating student milestones and experiences.
Key responsibilities include:
Media relations
Facilitating interviews with our diverse experts
Fulfilling requests for information and materials
Internal communications (faculty, students and staff)
Publications
And chronicling our achievements via print, digital, web and social media channels.
School of Medicine News & Events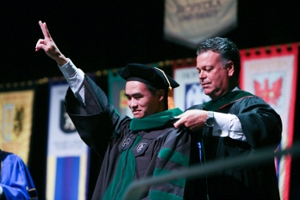 L.I. women's group aids Hofstra's medical school

Newly appointed assistant professor receives award for work in childhood cancer


Taking Medical Education from Bench to Bedside
Emails

Sign Up to receive e-mail updates from the School of Medicine!
Facebook