Media Contact:
Carole Trottere
Hofstra North Shore-LIJ School of Medicine
Phone:
516-463-7585
Send an E-mail
Date: Aug 03, 2011
Med Students Hear From Harvard Med School Dean
Dr. Jeffrey Flier calls Hofstra-North Shore-LIJ inaugural class 'Pioneers'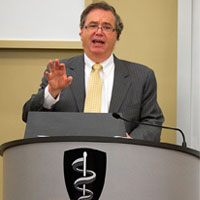 Hofstra North Shore-LIJ School of Medicine's inaugural class of medical students last week heard from guest speaker Dr. Jeffrey S. Flier, Dean of Harvard's Faculty of Medicine, who relayed his own personal experience of what it's like to be a member of the first class of a medical school. Dean Flier was a member of the inaugural class of Mount Sinai School of Medicine, from which he graduated in 1972, having earned the Elster Award for Highest Academic Standing. Dr. Flier became the 21st Dean of the Faculty of Medicine at Harvard University on September 1, 2007. Flier, is an endocrinologist and an authority on the molecular causes of obesity and diabetes, is also the Caroline Shields Walker Professor of Medicine at Harvard Medical School. Previously he had served as Harvard Medical School Faculty Dean for Academic Programs and Chief Academic Officer for Beth Israel Deaconess Medical Center, a Harvard teaching affiliate. 
"You are like pioneers," Dr. Flier told the students. "You cannot ask someone 'What is over the next hill'? Embrace every chance and opportunity that is presented to you." Last week the new medical students attended orientation week for the School of Medicine. Classes began August 1.