Message from the Associate Dean for Admissions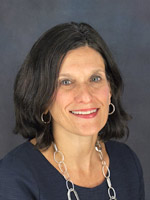 If you've decided to become a physician, you've already made one of the most important choices of your life. Where you attend medical school will make a difference in your future as well. At Hofstra Northwell School of Medicine, you enter an interactive and exciting educational environment designed to attract individuals interested in a creative approach to advanced learning. Our innovative, case-based curriculum, which weaves science and clinical medicine tightly together and stresses putting knowledge into action, will prepare you well for the practice of medicine in the 21st century.
As a student at our School of Medicine, you will receive personal attention and individualized career development while attending a state-of-the-art medical school. Science education faculty, in conjunction with top Northwell Health physicians, have created a learning program that will teach you to think on your feet, analyze critically,  and treat patients by integrating clinical experience and fundamental scientific principles throughout all four years of medical school. 
We understand the importance of rooting superior biomedical and clinical education in a set of core values that include professionalism, humanism and reflection.  This approach will allow you to develop life-long learning skills and to always place your patient's best interest at the center of medical practice, no matter what field of medicine you choose to pursue. You will learn not only the science of medicine, but the significance of community as you build relationships with other students and faculty who share in your passion.
You will have the resources of a vast, comprehensive health care system that serves an ethnically and socioeconomically diverse population of 5.5 million. You will be trained by highly qualified physicians and encounter patients in a multitude of clinical settings, including tertiary care facilities, specialty hospitals in pediatrics and psychiatry, community hospitals, emergency medical services, and long-term care facilities, all part of Northwell Health. At the Feinstein Institute for Medical Research, you will have the opportunity to learn and work with teams of scientists and physicians known nationally and internationally for advancing patient-centered biomedical research.
Our campus is a national arboretum situated in one of the region's most diverse areas. Hofstra University is located less than 20 miles from both Manhattan and the beaches of Long Island making many cultural and recreation activities easily accessible.
Come and learn about us as we explore new territory by emphasizing the integration of science and clinical practice throughout medical education. Through our innovative approach, we hope to develop physicians that are prepared to learn by new means, energized by the challenge to think differently, and eager to contribute tangibly to the overall well-being of individuals and society.  We look forward to meeting you!
Rona Woldenberg, MD
Associate Dean for Admissions