First 100 Weeks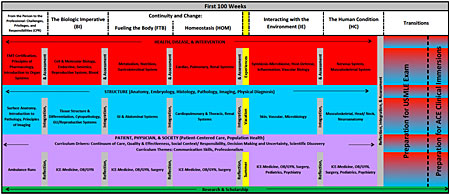 The First 100 Weeks is an integrated curriculum with six vertical courses inclusive of both scientific and clinical content. A vertical course refers to an 8-12 week long period in which the integration merges normal (health), abnormal (disease) and intervention (pharmacology and therapeutics) across all body systems. The First 100 Weeks also includes two longitudinal courses, Structure and Patient, Physician and Society (PPS), each of which is divided into two, year-long segments. The Structure course integrates normal and abnormal anatomy, embryology, histology, pathology, imaging, physical diagnosis and ultrasound, and does so synchronously with the six vertical courses. Similarly, PPS is an integrated course with two components: 1) a longitudinal, community practice-based clinical experience, known as ICE; and 2) classroom sessions focusing on horizontal theme content areas and curriculum "drivers" (defined below). Each week of the curriculum is defined by a theme and anchored by two hybrid problem-based/case-based learning cases known by the acronym PEARLS (Patient-Centered Explorations in Active Reasoning, Learning and Synthesis). The First 100 Weeks ends with a Transitions block, in which the students prepare for the USMLE Step 1 and participate in a four-week mandatory immersion in preparation for the Second 100 Weeks. In addition, there is ample time in the First 100 Weeks for personalized experiences, including opportunities during the first summer, for in-depth pursuit of individual interests, such as research, community service work, or international health.
The clinical curriculum of the First 100 Weeks is referred to as ICE, while that of the Second 100 Weeks encompasses ACE and Preparation for Residency. The School strongly believes that this longer, developmental, patient-centered approach to achieving its learning objectives, and specifically the scientific and clinical skills necessary to the practice of medicine, is best achieved in the enhanced context of meaningful patient responsibility. This construct and developmental model is central to the School's mission and core values.
The School's curricular model enables students to participate in the care of patients and their clinical conditions in diverse settings. ICE is an integrated longitudinal clinical experience that occurs in selected Health System community-based facilities, including outpatient, inpatient, and emergency care settings. ICE affords students the opportunity to participate in direct, meaningful patient responsibility while they are mentored by School faculty from multiple core disciplines.