Second 100 Weeks
ACE Curriculum Overview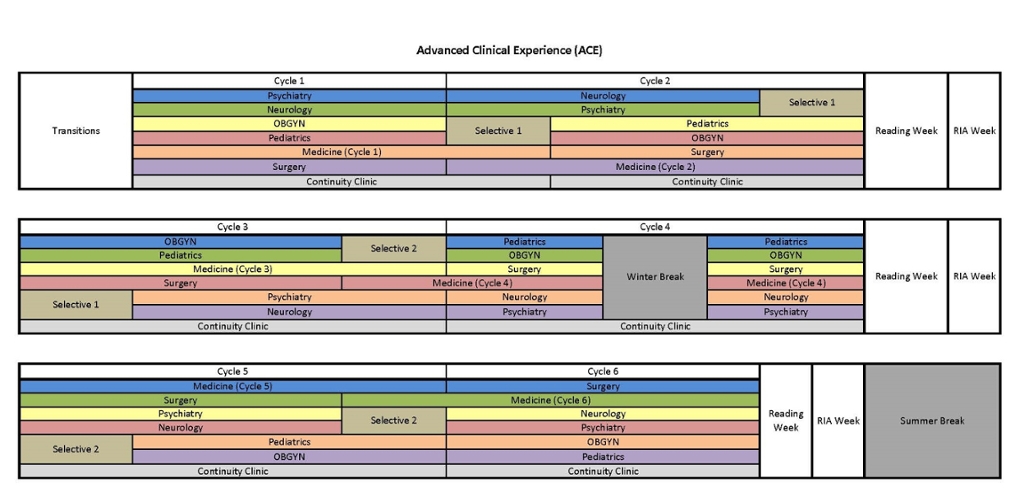 During the Second 100 Weeks of the curriculum, students participate in ACE. Consistent with the School's guiding principles, ACE continues to integrate scientific and clinical learning. However, in ACE, the ratio of clinical time to classroom time is increased. Student experiences are designed with an increasing focus on clinical care at two tertiary hospital campuses (North Shore University Hospital and LIJ Medical Center, which includes Cohen Children's Medical Center and Zucker Hillside Psychiatric Hospital) that provide students with exposure to more acute illness as they progress in their clinical abilities.
The third year is composed of 48 weeks, divided into three trimesters that encompasses the six core disciplines of Internal Medicine, Surgery, Pediatrics, OB/GYN, Neurology, and Psychiatry, selectives, a reading week and an RIA week. The structure of the year provides a discipline-specific focus while integrating cumulative and longitudinal clinical learning experiences, ensuring that students:
are placed where diagnostic reasoning occurs; i.e. in situations in which patients are, as yet, undiagnosed;
experience illnesses from presentation through to diagnosis and treatment
are provided opportunities for spaced, repetitive, and cumulative learning;
are evaluated by a robust and objective assessment process that drives learning; and
are offered the opportunity to explore areas of interest.
The discipline-specific focus of this model for the third year is accomplished through:
1. Clerkships focused on one discipline
2. Discipline-specific "ACE" rounds
3. NBME Clinical Subject Exams every trimester
Discipline-Specific Cycles:
Each trimester includes 2 discipline-specific cycles in which students learn in both inpatient and outpatient settings related to 2 of the 6 the core disciplines. The clinical settings are chosen to ensure that students evaluate patients at the point of presentation with the chief complaints and illnesses listed in ED-2. 
ACE Rounds:
These rounds occur once a week with either the discipline-specific ACE Director in charge of that cycle or a designated ACE Rounds Facilitator, a skilled clinical teacher in that discipline. Students present the patients they have evaluated to the group, and the discipline-specific ACE Director or Facilitator facilitates the discussion. 
NBME Clinical Subject Exams:
At the end of each trimester, students take the NBME Clinical Subject Exams in the two core disciplines of that cycle. Additional assessments during this period include standardized patients with written or oral post-encounter exercises, and simulations.
Taken together, these features provide a focus and structure for in-depth learning of each core discipline.
The cumulative and longitudinal features of this model for the third year are accomplished through:
Longitudinal continuity clinic experiences in Internal Medicine or Pediatrics; and
Core learning sessions
Longitudinal Continuity Clinical Experience
In the third year, students have a longitudinal continuity clinic experience in either Internal Medicine or Pediatrics. This experience allows students to witness the natural history of diseases characterized by a long course of illness and to experience yearlong continuity with a single preceptor and a cohort of patients.

The Continuity Experience in ACE: Goals

Through the longitudinal continuity experience in ACE, students:
Experience meaningful patient encounters in the context of outpatient practice,
Build longitudinal relationships with patients and preceptors,
Actively participate in first encounters with patients with as yet undifferentiated clinical conditions and others with chronic conditions that evolve over a year,
Integrate, both intellectually and practically, classroom work in the basic and social sciences with the care of individual patients and of populations, and
Experience the "system" in action.
Core Learning Sessions
Students will attend various core learning sessions throughout the year, a detailed schedule can be found on one45. In addition, centrally-designed core curriculum is delivered during certain clerkships. These sessions allow for the reinforcement of science in the context of patient care as well as the curriculum's themes and drivers.
Core Learning: Clinical Reasoning/Clinico-pathologic Conferences:
Toward the end of each trimester, the students will receive a clinical reasoning exercise using an unknown patient case.  They then research the case on their own and respond to a series of related questions (in examsoft) defending their most likely diagnosis.  This exercise culminates in a formal presentation and defense of the diagnosis by a handful of randomly selected students and an expert clinician.  The diagnostic test of choice is revealed, radiology reviewed, and pathology described by a group of experts.
Core Learning: Reflection:
Three times a year, each student writes a brief narrative (on blackboard) related to an experience during their clerkship that triggered questions or concerns for them. Such an experience might a situation: (1) in which they didn't have the necessary knowledge or skills; (2) that had a good outcome, but raised questions regarding how or why that outcome was achieved; (3) which was complex, surprising, uncomfortable or uncertain; or (4) in which the student felt personally or professionally challenged. In small groups facilitated by a physician and an allied health professional, the students share and debrief these experiences. These sessions reinforce the School's value of reflection and help the students work through the troubling aspects of the hidden curriculum.
Core Learning: Communications:
During the medicine clerkship, students work in small groups with communications faculty and standardized patients to expand and refine skills learned in the First 100 weeks.
Core Learning: Structure:
Building on skills developed in the Structure lab during the First 100 Weeks, students in the OB/GYN and Surgery clerkships revisit key concepts in anatomy, pathology, and imaging with specific emphasis on the application of these concepts to the new clinical setting.
Core Learning: Simulation Sessions:
In each clerkship, students spend a half-day in the clinical skills or simulation center working through clinical cases. These experiences allow the students a level of autonomy not ordinarily given to medical students in the clinical setting, and thus push them to sharpen their clinical reasoning or procedural skills. The faculty debriefing these experiences also has an opportunity to review the scientific underpinnings of the clinical presentations.
Core Learning: Brain Death
During the Neurology rotation, students learn, through both large group and small group case discussion, the ethical dilemmas and principles surrounding brain death, the clinical methods of determining brain death, and the systems in place to work with families.
Selectives
ACE includes six weeks of selectives. Two of the weeks are embedded in the Medicine clerkship and must be taken in a subspecialty of Internal Medicine. For the other four weeks of selective (two in each of the remaining trimesters), the third year students select from a variety of specialty and subspecialty experiences offered only at the School of Medicine (unlike fourth year students who are permitted to pursue elective experiences at institutions other than the School of Medicine).