Welcome from the Dean for Academic Affairs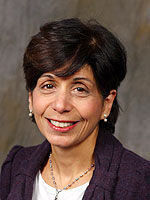 At the heart of our School of Medicine is a community woven together by a culture of mutual respect, collegiality and scholarship. The School will establish and sustain this culture by aligning its goals with the goals and successes of both its faculty and students. Through recruitment of, career development of, and investment in our faculty and students, we will distinguish our School as a leader among its peers.
The School is committed to providing an environment that values the unique and complementary contributions of different individuals to the research, clinical care, education and service components of its missions. It also is committed to providing the resources and support systems necessary for individual professional growth, meaningful shared governance, and collaborative inquiry across the continuum of scholarship – whether focused upon basic and molecular biomedical science, cross-disciplinary translational medicine, clinical outcomes and effectiveness research, community- and population-based health care delivery strategies, or innovative medical education.
Each one of us shares the privilege of being a part of our new School, and the responsibility for translating this privilege into something of enduring value to ourselves and to those whose lives we touch. We, the Faculty, accept both the privilege and responsibility with great gratitude and anticipation.
Veronica M. Catanese, MD, MBA
Vice Dean