Alice Fornari, Ed.D., R.D.
Associate Dean for Educational Skills Development,
Professor of Science Education, Population Health and Family Medicine
Hofstra Northwell School of Medicine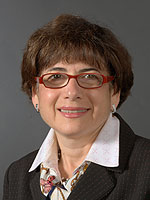 Assistant Vice President, Faculty Development, Northwell Health
Dr. Fornari received her Bachelor of Science degree from Cornell University in Nutrition, a Master of Science from Columbia University, Teachers College in Nutrition Education and in 2001, her doctoral degree from Columbia University, Teachers College in Higher Education, College Teaching and Academic Leadership. Her doctoral research focused on improved teaching and learning in the discipline of ethical decision making. Her professional interests continue to include bringing professionalism, communications skills and ethics as paramount to the education and practice of health professionals.
In her current position, Dr. Fornari focuses on faculty development for the Northwell Health System community of faculty, residents and fellows. She is charged with assuring all who have contact with lour learners are prepared to facilitate learning through quality teaching. As an Associate Dean, she is a member of the core education leadership team at the Hofstra Northwell School of Medicine, with a specific focus on assuring faculty are aligning their teaching with the curriculum according to the School's guiding principles. In addition she co-directs the Communication Skills course, which is a curriculum woven throughout the 4-years of the students' medical school education. The goal is to assure medical students are consistently building their skills in how to communicate with patients, families and colleagues utilizing the core skills of relationship building throughout their encounters. In addition, through her interest in the SOM core value of reflection, she has developed a community of practice of professionals interested in reflective practice as a core skill needed for all healthcare professionals. This group of inter-professionals work on multiple activities to increase faculty knowledge and skills specific to reflective practice as a core competency in medical education and create a culture that supports this as a competency for practice. As the School matures she is working with both Health System and SOM faculty to begin to research the innovations that are integral to the delivery of medical education the 21st century.
Prior to joining the Hofstra/Northwell Health community, Dr. Fornari was Assistant Director of Medical Education and Co-Chair of the Division of Education in the Department of Family and Social Medicine at Albert Einstein College of Medicine. In that capacity, she worked on curriculum development and revision, and on assessment of teaching and learning, to achieve quality education programs for students, residents and faculty. In a parallel process, Dr. Fornari developed, implemented and coordinated faculty development programs for the clerkship and residency training faculty, as well as a fellowship for junior faculty. Her funded scholarship centered on new education initiatives and community engaged practice and research.