Dean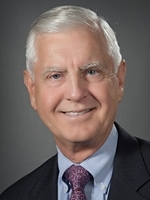 Lawrence G. Smith, MD, MACP
Dean
Professor of Medicine
T: 516-463-7517
F: 516-463-5631 
Email
Dr. Lawrence Smith is Founding Dean of the Donald and Barbara Zucker School of Medicine and Executive Vice President and Physician-in-Chief of the Northwell Health System. As Dean, Dr. Smith leads the strategic planning of the educational programs and facilities, recruitment of faculty, students, and staff, and all aspects of the accreditation process of the School of Medicine. As the Health System's senior physician, he also is responsible for the overall professional management of clinical, education, research and operational issues related to all medical and clinical affairs throughout North Shore-LIJ.
Dr. Smith joined the Northwell Health System in 2005 as Chief Academic Officer and Senior Vice President of Academic Affairs. In this role, Dr. Smith strengthened the Health System's GME programs and expanded medical school affiliations, significantly enhancing the Health System's ability to recruit medical students and residents. In addition, Dr. Smith was responsible for overseeing the then 13-hospital Health System's medical student education programs and academic faculty appointments. Dr. Smith also was accountable for establishing close relationships with doctors and hospitals throughout North Shore-LIJ that enhanced the Health System's partnerships with staff and community-based physicians and improved physician recruitment efforts.
Before joining Northwell Health System, Dr. Smith served as Chairman and Dean of Medical Education (beginning in 2002) at the Mount Sinai School of Medicine in Manhattan, New York. He was also founder and Director of the School's Institute for Medical Education, a Professor of Medicine, and an attending physician. He joined the faculty of the Mount Sinai School of Medicine in 1994 as the Vice Chairman and Residency Program Director of the Department of Medicine. Prior to his career at the Mount Sinai School of Medicine, Dr. Smith practiced general medicine at the State University of New York's Stony Brook University Hospital, where he became a full-time faculty member, Director of Education, and Program Director of the hospital's residency program in internal medicine.
Dr. Smith is a Former President of the Association of Program Directors in Internal Medicine, a Regent of the American College of Physicians, a Director of the American Board of Internal Medicine, a Member-at-Large of the National Board of Medical Examiners, and a former member of the Executive Committee of the Organization of Program Directors Association. Dr. Smith has held senior leadership positions in national societies for medical education and residency training, authored numerous peer-reviewed publications in the area of medical education, and received awards and honors from national and international organizations. Recently, Dr. Smith was appointed to the New York State Education Department Advisory Committee on Long-Term Clinical Clerkships, which reports directly to the Board of Regents.
Dr. Smith earned a Bachelor of Science degree in physics from Fordham University and his MD degree from the New York University School of Medicine. He followed his residency in Internal Medicine at Strong Memorial Hospital with military service as captain in the Army Medical Corps at Fitzsimmons Army Medical Center in Denver, Colorado.