Medical Scholars Pipeline Program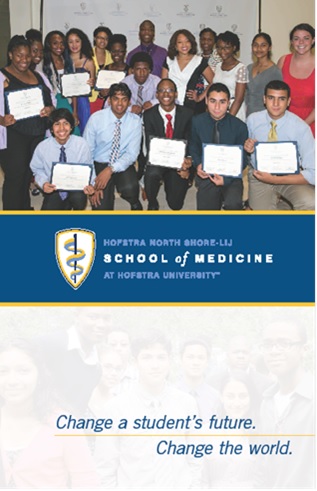 The Medical Scholars Pipeline Program (MSPP) at the Hofstra North Shore-LIJ School of Medicine was created as part of the school's core mission to advance and nurture a diverse and inclusive learning community. The Program is designed as a multi-year four-week summer program for high-achieving students from groups underrepresented in medicine. Now in its sixth year, the MSPP takes elite students from underserved communities and turns them into competitive future applicants to medical schools and other health-related fields, including medicine, dentistry, nursing and medical technology. The Program's ultimate goal is to increase diversity of the healthcare workforce by exposing young scholars to various healthcare professions and give them a competitive edge.
The MSPP at the School of Medicine works collaboratively with the 
Gateway Institute for Pre-College Education
 at The City College of New York to recruit and support minority public school students in their higher education goals and pursuit of health careers. A cohort of strong participants are selected for this fully-funded program through an application process that includes interviews and recommendations from educators at their high schools. Grants have been  provided by philanthropic sources, including the Gateway Institute for Pre-College Education at The City College of New York, Uniondale HighSchool, Capital One Bank, United Healthcare and The Pinkerton Foundation.
This year students from Benjamin Cardozo, Queens Gateway to the Health Sciences, Jamaica Gateway to the Sciences, Francis Lewis, GW Carver and Excelsior Preparatory high schools in Queens County, Brooklyn Technical high school in Brooklyn County, and Uniondale and Hempstead high schools in Nassau County attended classes on a wide range of medical issues. Learning sessions are delivered on topics ranging from the ethics of medical research, healthcare reform, geriatrics, hematology, infectious disease, heart disease, pediatrics, emergency medicine, obstetrics and gynecology, stress reduction and cultural competency.
The first-year students take part in exercises to develop leadership and team-building skills, PSAT preparatory, and CPR/AED training. Second-year students learn the basics of how to conduct research projects and attend several learning sessions in the School of Medicine's Structure Lab. Third-year students participate in the "mini medical school".  The "mini medical school" component is facilitated by two second-year medical students who attend the School of Medicine. The classes are built on the cornerstone of the school's innovative curriculum, Patient Explorations in Active Learning Reason and Synthesis (PEARLS), that uses problem- and case-based learning scenarios.The participants rotate through programs held at the Hofstra North Shore-LIJ School of Medicine and at various North Shore-LIJ facilities, including its Center for Learning and Innovation, The Patient Safety Institute and The Feinstein Institute for Medical Research.
The fourth-year students receive a strong recommendation from Dr. Adam Aponte, Assistant Dean of Diversity and Inclusion at the Hofstra North Shore–LIJ School of Medicine, for acceptance into the NERA Med Prep Program at Columbia University. This program is designed to give the older students an opportunity to further develop key skills and competencies important to success as applicants to medical school. 
All students receive an electronic device and access to relevant library resources. Students are mentored by physicians, medical school students and other healthcare professionals. They also receive a stipend to make up for the reduction in potential summer earnings they might otherwise have made. The 2014 high school graduates continued their education this fall at leading colleges, such as Columbia University, Harvard University, Howard University, Northeastern University, Fordham University, Hofstra University and other outstanding institutions. The Medical Scholars Pipeline Program is a four-year program that begins with rising high school juniors and continues until they reach their sophomore year in college.