Media Contact:
Adrienne Stoller
Office of Communications
Hofstra Northwell School of Medicine
Phone:
516-463-7585
Send an E-mail
Date: Feb 24, 2016
Hofstra Northwell "Shears" Up for Baldrick's Day 2016
Med Students Going Bald for Children with Cancer Charity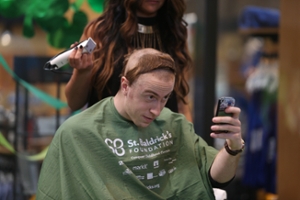 Show Your Support and Donate Today
Click Hofstra Northwell School of Medicine Team for Baldrick's

Hempstead, NY--Students and staff from the Hofstra Northwell School of Medicine will sacrifice their hairdos for dollars in support of the St. Baldrick's Foundation and pediatric cancer research at the eighth annual St. Baldrick's Day, a campus-wide event at Hofstra University to be held on Mar. 9, 2016.  The university goal is to raise $45,000.
This year, Hofstra Northwell will host their own shearing event on Wednesday, Mar. 2 at 6pm at the School of Medicine facility (W104-W106). All are welcome to attend and support the shed of hair for a wonderful cause. 
The act of head shaving is meant to show solidarity with kids fighting cancer, many of whom lose their hair during treatment. Leading up to the date of the event, each "shavee" raises funds which are donated to support pediatric oncology research. The School of Medicine also participates in Children with Hair Loss, a nonprofit organization that offers human hair replacement to children at no cost.
Although the fundraising bar for Team Hofstra Northwell has been set at $25,000, student participants are set on surpassing last year's contribution of more than $28,000 for St. Baldrick's--the highest contribution to Hofstra University's total donation of over $41,000 to fund cancer research. In fact, faculty members Joel N.H. Stern, PhD, assistant professor of science education and neurology, and Robert V. Hill, PhD, assistant professor of science education, have agreed to trim away their tresses if the team reaches and hopefully stretches beyond its goal.

"Kids with cancer need all the support we can give them," said Dr. Hill. "Raising money--and shaving heads--are great ways to show them that they're not alone."
For more information and to make a donation, please visit Hofstra Northwell School of Medicine Team for Baldrick's.