Media Contact:
Adrienne Stoller, Communications
Lisa Martin, Humanities in Medicine
School of Medicine
Send an E-mail
Date: Feb 23, 2017
School of Medicine Presents Artistry Without Limits
Young man with muscular dystrophy shares his creative works
Artist Dylan Thompson (left) discusses his artwork with medical student.
Students and staff at the Hofstra Northwell School of Medicine were treated to a special exhibition featuring the art of Dylan Thompson who lives with Duchenne Muscular Dystrophy (DMD), a genetic disorder characterized by progressive muscle degeneration and weakness.  The exhibit took place on February 15, 2017, with the artist in attendance to share and discuss his work with visitors.
"The artwork was stunning," said Dr. Thomas Kwiatkowski, assistant dean for education/simulation and professor of emergency medicine. "The artist did not let his significant disability limit his creativity and vision."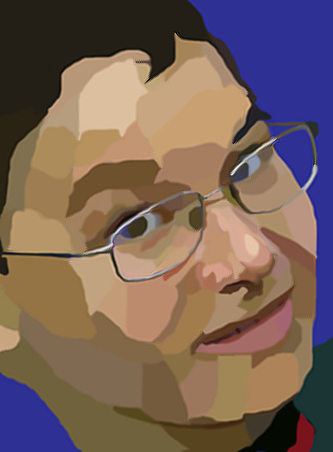 Thompson, age 23, has little use of any part of his body besides his hands as a result of DMD. Despite obstacles, he can create original digital artwork on his computer, most of which focuses on flowers and foliage and the vibrant use of color. His designs also include a riveting self-portrait (shown right).
In describing his artistry, Thompson stated that it "all began from one creation of a flower that I hand drew."  When he lost the ability to continue drawing, he "began utilizing that one design to edit and create a variety of other designs using Photoshop."  Although physically challenged, Thompson said that he had found ways to continue to enjoy his passion.
Thompson's art exhibit was brought to the School of Medicine as part of its Humanities in Medicine Program, also known as the Osler Society. "These events emphasize the importance of seeing and treating the whole patient, not just the ailment," said Lisa Martin, coordinator of the program. First-year medical student, Adam Lalley, is appreciative for the exposure. "Events like these are so important to helping us understand the lives of our patients outside of a medical setting."
More than anything, Thompson wants to be seen as just another young man – not simply a person with a disease. "I can do everything everyone else can do except walk, run, jump, feed myself, bathe myself or drive. This disease does not affect my brain," explained Thompson.
Duchenne Muscular Dystrophy is a genetic disease caused by the absence of dystrophin, a protein which keeps our muscle cells intact. Symptoms of DMD begin to surface around the ages of three to five years old. Until recently, DMD patients typically did not survive beyond the teen years. But thanks to advances in medicine and healthcare technology, many people with DMD attend college, start a career, get married, have children, and go on to experience full lives.
"The only difference between you and me is that I use a wheelchair as my legs," said Thompson. "Other than that, I'm a normal 23-year-old guy."  
Thompson's work can be viewed and purchased online by visiting Dylan Thompson Art.