Media Contact:
Adrienne Stoller
School of Medicine
Phone:
(516) 463-7585
Send an E-mail
Date: Mar 25, 2014
School of Medicine Professor to Receive National Award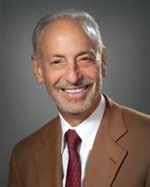 Dr. Howard Kerpen
Professor of Medicine
Lorber Professor of Medical Education
Howard O. Kerpen, MD, FACP, Professor of Medicine at the Hofstra North Shore-LIJ School of Medicine, has been awarded the Outstanding Volunteer Clinical Teacher Award from the American College of Physicians (ACP), the national organization of internists. 
The award will be presented at ACP's annual convocation ceremony on Thursday, April 10, 2014, at the Orange County Convention Center, in Orlando, Florida, where the ACP is hosting its annual meeting (Internal Medicine 2014) through April 12.
The ACP's Outstanding Volunteer Clinical Teacher Award is bestowed upon a Fellow of the College who has consistently volunteered his or her services to teach medical students and residents. The recipient must demonstrate outstanding teaching prowess, display exemplary characteristics of care and concern for individual patients at the bedside, and serve as a role model and mentor.
An internist and nephrologist, Dr. Kerpen has served as Section Head of Nephrology at Queens Hospital Center, NY and Director of Medicine for the Manhasset Division, Long Island Jewish Medical Center (LIJMC). He is also the founding Chair of both the Committee for Innovations in Medical Education and the Bette & Jerome Lorber Center for the Advancement of Medical Education at LIJMC, an institution which aims to develop unique methods to enhance medical education at the undergraduate, graduate and post-graduate level for internists. In addition to numerous publications, grand round lectures, and three mini-symposia, Dr. Kerpen is a six-time recipient of the LIJMC Department of Medicine Teacher of the Year Award, including the Special Award for Contributions to the Residency Training Program in 2001 and the Lifetime Teaching Award in 2007. 
Hofstra University is a dynamic private institution of higher education where more than 11,000 full and part-time students choose from undergraduate and graduate offerings in liberal arts and sciences, business, engineering, education, health and human services, honors studies, the Maurice A. Deane School of Law, the North Shore-LIJ School of Medicine and the Lawrence Herbert School of Communication.
One of the nation's largest health systems, North Shore-LIJ delivers world-class clinical care throughout the New York metropolitan area, pioneering research at The Feinstein Institute for Medical Research and a visionary approach to medical education highlighted by the Hofstra North Shore-LIJ School of Medicine. North Shore-LIJ cares for people at every stage of life at 16 hospitals and about 400 outpatient physician practices throughout the region. North Shore-LIJ's owned hospitals and long-term care facilities house more than 6,000 beds, employ over 10,000 nurses and have affiliations with more than 9,400 physicians. With a workforce of more than 47,000, North Shore-LIJ is the largest private employer in New York State.

For more information, go to www.northshorelij.com.