Media Contact:
Adrienne Stoller, MA
Office of Communications
School of Medicine
Phone:
516-463-7585
Send an E-mail
Date: May 16, 2014
Cheryl Manne Award to Support Student Research in MS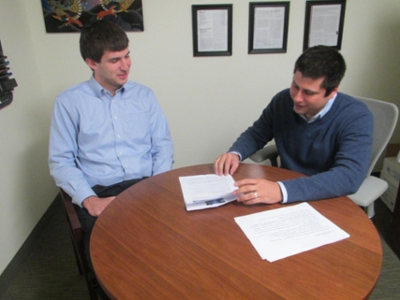 Getting Involved in Research Expands Medical Knowledge and Mentorship  
Hempstead, NY--The growing demand for more individualized healthcare has refocused medical education on treatment of the whole patient, not just the illness. It's why forward-thinking institutions like Hofstra North Shore-LIJ School of Medicine have structured a rigorous yet conscious curriculum that emphasizes practical experience, collaboration and medical innovation—right from the start.
"This first year has been altogether challenging, exciting and inspiring," said Phillip Rubin, a first-year medical student at the School of Medicine. "Our curriculum is so much more than study and discussion—it's learning through experience and discovery."
Following final exams in May, Rubin will embark on a summer of study in neurology with funding from the Cheryl Manne Summer Research Stipend, awarded to students who participate in investigations dedicated to finding a cure for multiple sclerosis (MS). 
Working in the lab of mentor Matilde Inglese, MD, PhD, associate professor of neurology and radiology, Icahn School of Medicine at Mount Sinai, whose current research in MS is supported by the NIH, Rubin will assist a study in the development and application of new magnetic resonance imaging (MRI) techniques to learn more about MS and effectiveness of treatments.  Rubin will also receive guidance from co-mentor, Joel Stern, PhD, assistant professor of science education at the Hofstra North Shore-LIJ School of Medicine, who will provide instruction about disease development and how to use markers to identify degeneration leading to MS disability.
"Research participation can help students build a foundation for evidence-based medicine," said Dr. Stern, who is working to integrate the concepts and challenges of scientific discovery into the medical school curriculum. "Students gain a better understanding of how treatments are developed, how to evaluate information in a more objective manner, and foster important problem-solving skills."
Rubin's research efforts will culminate in a poster presentation at the School of Medicine's Scholarship Day in the fall, an event that highlights student summer projects.  More than half of the School of Medicine's student body participated in domestic and international research activities last year, with interest just as high for 2014.
"This is a unique opportunity, I'm certain Philip will contribute to the advancement of MS research to help patients," said Dr. Stern, "and that includes the contributions of so many of our students who have chosen to pursue research activities this summer."