Media Contact:
Carole Trottere
School of Medicine
Phone:
(516) 463-7585
Send an E-mail
Date: May 21, 2012
Medical Spanish Course Offered to First-Year Med Students at Hofstra North Shore-LIJ School of Medicine
Focuses on cultural competency for tomorrow's doctors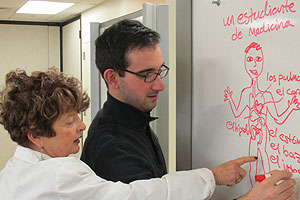 Properly communicating with a patient is key to forging a trusting relationship between physician and patient, but a language barrier can make that difficult. As the Spanish-speaking population grows on Long Island and across the entire United States, communicating important information in Spanish is more than a courtesy, it can be critical to a patient's health. Physicians need to be linguistically-capable, knowledgeable and culturally-sensitive when communicating with their patients.
Hofstra North Shore-LIJ School of Medicine's first class of medical students is offered a class in Medical Spanish, in addition to their course work, during their first year of medical school. Translating common questions and terms into Spanish, such as "¿Qué le duele?  ("What hurts you?") or "Voy a examinarle" ("I am going to examine you.") can be imperative in order to get to the essence of what why a patient has come to the doctor. 
Dr Lawrence Smith, Dean of the medical school, said the decision to offer a medical Spanish class to the first year students was simple: "Better communication between doctor and patient leads to a better health outcome."
Carol Barnett, the Medical Spanish instructor, teaches the course to the school's 40 inaugural students and states that she believes it is critical for students to learn Spanish to develop better communication with non-English speaking patients. 
"By introducing cultural competency into the curriculum, you enhance a student's awareness of their own world-view and their attitude towards cultural differences," she said. "This experience helps them to cross any cultural bridges that they may come across as they practice medicine." 
Students study terms of anatomy, as well as common questions that a doctor might ask a patient during an examination. They also learn about cultural differences and belief that might influence a patient's choices of medical options.