Media Contact:
Adrienne Stoller
Office of Communications
Hofstra Northwell School of Medicine
Phone:
516-463-7585
Send an E-mail
Date: Jun 03, 2016
Hofstra Northwell School of Medicine Honors Anatomical Gift Program Donors
Medical students pay tribute to their first patients and teachers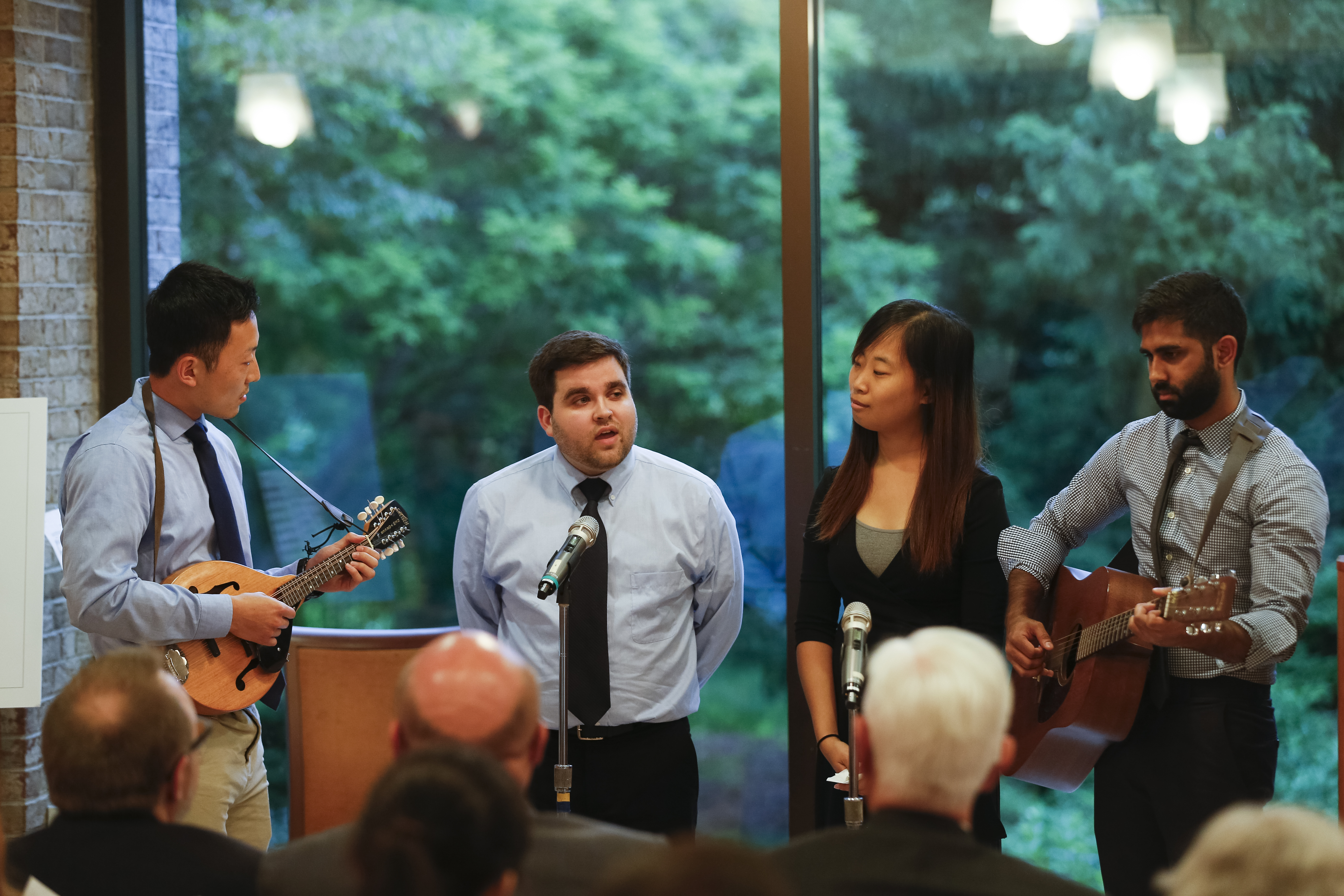 Students celebrate donors through music and song.
Hempstead, New York—Hofstra Northwell School of Medicine hosted its third Anatomical Gift Donation Ceremony to honor donors of the school's Whole Anatomical Body Gift Program—a program dedicated to facilitating the medical education and research needs of health professionals, while also fulfilling the wishes of its donors in an atmosphere of professionalism, scholarship and reflection.  This year's memorial service was held on Jun. 2, 2016 at the Hofstra University Club at Hofstra University.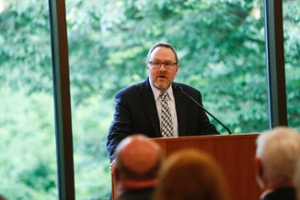 Featuring music and readings from medical students, faculty and loved ones of donors, the annual observance is a way for all in attendance to gratefully acknowledge the contributions of the anatomical donors and their families, as well as a special time to contemplate and connect consciously with oneself.
"One of our core values at the School of Medicine is reflection, which means taking the time to understand the thoughts and emotions that arise from professional experiences," said Robert V. Hill, PhD (photo left), associate professor and director of the Anatomical Gift Program at Hofstra Northwell.  "When students step back to appreciate the donor's gift, they demonstrate the professionalism and compassion that they will offer their patients."
At Hofstra Northwell, the students' initial exposure to a body donor within the school's structure laboratory begins with an observation-correlation exercise, in which students thoughtfully examine the body, learn about the donor's name, age, history, and then attempt to piece together a life lived by connecting with the donor as a person. The experience is followed by a period of self-reflection where, in a small-group setting, students share their view of life from both an emotional and scientific perspective.  
"When my class started medical school a couple years ago with the donors whom we are honoring today, we were introduced to them as our first patients and our first teachers," said Christine Park, a second-year medical student at Hofstra Northwell who spoke at the memorial service. "The privilege and access to this great and final gift is something that I hope I will never take for granted."
And what does it take to bestow one's body as a gift for the purpose of higher learning?
"It takes courage to choose a less traditional path at the end of one's life, it takes foresight and a vision for the doctors our medical students will become in the future," said Dr. Hill. "It also takes a love for life and an unshakable faith in humanity to want to do good even after one's death."
For more information about the Anatomical Gift Donation Program, please call 516-463-7505 or visit medicine.hofstra.edu/agp.