Media Contact:
Carole Trottere
School of Medicine
Phone:
(516) 463-7585
Send an E-mail
Date: Jun 05, 2013
Med Students Honor Donors to School's Anatomical Gift Program
Anatomical Donors at the School of Medicine serve as essential teachers
Hempstead, New York—Hofstra North Shore-LIJ School of Medicine students honored a crucial group of teachers, the Anatomical Gift Program Donors, at a memorial service on June 4, 2013. The service is intended to instill in students an appreciation of the humanity of the Donor, help them process and incorporate the emotions that arise while dissecting a human body, and give them an opportunity to offer thanks to the Donors and their families.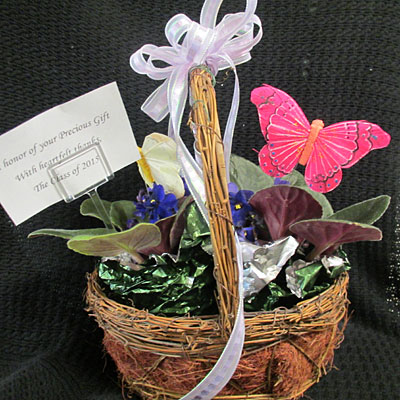 "Because of them, I think we will have a greater awareness of our patients as people, not just diseases," said Shayna Carp, a second-year medical student who helped coordinate the memorial service.
This was the first service held at the new medical school and was designed entirely by the students. Relatives of the donors are invited to the ceremony, which was be held in the Presidential Room of the Hofstra University Club, David S. Mack Hall on the Hofstra campus. The program consisted of instrumental and vocal music, as well as reflective readings.
The anatomical study of the human body in Structure Lab provides medical students with a critical aspect of their educational training that has no equal in either a textbook or from a computer. Bodies for study at the School of Medicine come from the School through its Anatomical Gift Program.
"The memorial service is a chance for the relatives of Donors to have closure for the loss of their loved ones, and it provides families with the opportunity to meet the medical students," said Dean Lawrence Smith, MD. "It is also a wonderful opportunity for the students to reflect on what a tremendous contribution these Donors have made towards their education."
"The Donors are an indispensable part of our medical education," said second-year medical student Shayna Sanguinetti, who also helped coordinate the service. "This service is to show our appreciation for that privilege and to share in their memory with their families."
"It is so important to thank the Donors who have played such a huge role in our education, " said Carp. "They have helped us more than they could ever realize. I think I speak for most of my class when I say that having the opportunity to learn from them in such a personal way is critical to our training. Seeing the structures up close in the lab gives us such a different perspective and humanizes what we are reading in our textbooks."
The Whole Body Anatomical Gift Program of the Hofstra North Shore-LIJ School of Medicine is dedicated to facilitating the medical education and research needs of health professionals and fulfilling the wishes of its donors in an atmosphere of professionalism, scholarship and reflection.
For more information call 516-463-7505 or visit medicine.hofstra.edu/agp