Media Contact:
Carole Trottere
School of Medicine
Phone:
(516) 463-7585
Send an E-mail
Date: Jun 20, 2013
Leadership in the Face of Adversity
Hofstra North Shore-LIJ School of Medicine Professor Nicholas A. Sgaglione, MD, recently spoke about leadership in the face of adversity as he ended his term as the President of the Arthroscopy Association of North America. Dr. Sgaglione is also the Chair of the School of Medicine's Orthopaedic Department.
Presidential Address
Leadership in the Face of Adversity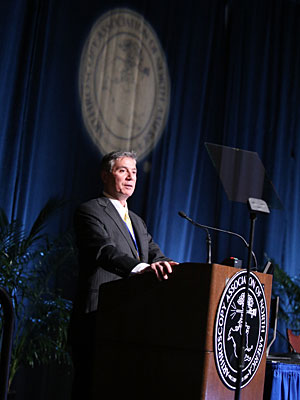 Good morning and welcome to San Antonio. I wish to express my appreciation to so many of those who have played such an important role over the last year. There is a saying by Kimiko Martinez that states: "If Life was easy, it wouldn't be worth living. That is why we have obstacles we overcome and friends to help. So we won't have to do it alone." The journey, the wins, and the consequences are shared.
First and foremost, I wish to thank God for His guidance granted to me and for the great gift of my career as a physician, to have been blessed to be able to care for people, and to be doubly blessed to love my profession and what I do every day.
I must thank all who have preceded me and served before me. The respected leaders of this great organization we call AANA: The Arthroscopy Association of North America. Particularly the Past Presidents of AANA. I would like to ask all the Past Presidents who are here today to please stand up and be recognized.
I wish to immediately thank our First Vice President Dr. Thomas Byrd for a most gracious introduction. Thomas, you are a true giant and you define the word gentlemen in any book. Thank you for all your moral support and great advice this past year. I congratulate you on your upcoming presidency and I am at your service.
Thanks go to Dr. Bill Beach our second Vice President, Dr. Jack Bert, Board Advisor, and the AANA Board of Directors, a dream team of talented, dedicated, caring physicians and friends. And I appreciate all of our AANA Committee Chairs and committee members: It is your many hours of tireless work and service that drives this organization forward.
Many thanks also to our esteemed Mexican colleagues and their President, Dr. Fernando Valero and the AMECRA leadership, including Drs. Ivan Encalada, Hector Arredondo, and Fidel Dobarganes for the very special and successful educational and societal collaboration that has distinguished this meeting.
This year's scientific program is truly outstanding. We have Rob Pedowitz our Program Chair and the Program Committee to thank in addition to Ben Shaffer our Education Chair and the Education Committee.
I wish to thank the entire AANA staff: Lauren, Susan, Christine, Marge, Beatrice, Tiffiny, Meghan, LaTosha, Deborah and Hank, as well as and Phil and Mark, for ensuring the highest quality and consistency of our educational programs. To my dear friend Holly Albert, our Meetings and Events Coordinator, the heart and soul of AANA. Holly, you have a wonderful ability to make to make everyone look good. Thank you Holly for being our celebrity! To Ed Goss our Executive Director: a brilliant Jack of all trades, and master of everything.
The past year has been marked by many changes and a few fires that needed to be put out. At times I felt that a uniform with gloves and a helmet were needed in order to do my job as this year's AANA fireman. In fact I am thrilled to let you know that the Board has approved the gear to effectively get the work done. Ed: you have been there all year for me. Thank you for being my "Whit," when I found myself at wit's end!
I must share several reasons why this meeting, being held in San Antonio, is meaningful and important to me. San Antonio was the birthplace and hometown of my wife Leslie's Mother and Grandmother. That means a lot to our family. San Antonio is a very special city, the site of the largest in-patient military medical center and the Center for the Intrepid, responsible every day for taking care of our injured military servicemen.
Over the last three years under the sage leadership of Dr. Rick Ryu and Commander Matt Provencher, AANA has been a special educational partner of the Society of Military Orthopaedic Surgeons. The very successful joint AANA–SOMOS Learning Center courses have been a source of immense importance and pride for AANA to collaborate and share surgical education with our military physician brethren who take care of our Wounded Warriors.
Another meaningful reason that I appreciate AANA coming to San Antonio, is that Texas has been called the land of cowboys and ranchers: the land of fiercely independent, hard working, tenacious individuals who get the job done and who push the envelope. San Antonio is the home of one of AANA's Past Presidents and one of our greatest shoulder innovators, Dr. Steve Burkhart. An AANA Cowboy. The legacy of the cowboy has been tied to the legacy of AANA. When this remarkable organization was born, there were many in orthopaedics who did not take AANA or arthroscopy seriously; they were not convinced. Many in our Association were labeled "cowboys." Steve Burkhart stated in his book The Cowboy Credo: "There is the easy way and there's the Cowboy Way."1
Distinguished leaders of the Arthroscopy Association of North America. Esteemed guests, friends, ladies and gentlemen. It is my distinct honor today and one of the great honors of my life and career to have served as your 32nd president over the past year. I stand before you humbled, proud, and excited about the immense privilege to have worked for you this year and I now reflect and share my observations.
I am happy to report that The Arthroscopy Association of North America is in fact stable, vibrant, and growing. AANA is the largest and fastest growing orthopaedic subspecialty society. We are, believe it or not, are up to 3,651 members and up 300 members from last year; 48% of all of our new members this year are Residents and Fellows. Of our current 3,651 members, 33% are age 40 or younger. AANA is indeed about now!
A generation ago, the introduction of arthroscopy heralded a true paradigm shift in orthopaedics and it ranks as one of the major medical advances of the last 40 years. Arthroscopy, along with joint replacement, internal fixation of fractures, and limb salvage for bone tumors, has changed the way we take care of patients and dramatically and broadly benefitted millions of people.
But it wasn't always clearly defined. The initial leaders and founders of this Association fought an uphill battle, striving for many years for acknowledgment and acceptance of minimally invasive surgery. Arthroscopic surgery was initially frowned upon, then embraced, and then popularized. What started as a novel surgical technique became an accepted treatment paradigm because it helped patients recover quicker and with less pain.
But it was more than that……A passionate few tipped the rest. Malcolm Gladwell in his compelling best-selling book "The Tipping Point" cites reaching critical mass and the introduction of new technologies that catch on and cause us to reframe how we think about our approaches.2 Gladwell describes the phenomenon of "Early Adopters," followed by "Majority Acceptors," and subsequent "Doubtful Laggards," all the while throttled by established "Criticizers." But the "Early Adopters" had what Gladwell cites as the "Stickiness Factor"; that is, through leadership skills they shared memorable messages through novel educational programs that changed people's behavior.
AANA is all about sustained leadership. Leadership sharing vision, leadership inspiring initiatives, leadership working for measured innovation, and leadership focusing on membership needs. There are thousands of books written on leadership but when you drill down on the subject, it becomes clear that in this organization, sustained leadership is shaped by mentoring and mentoring is fostered primarily by friendship, as well as integrity, credibility, and respect.3,4
The Arthroscopy Association of North America is a relatively new Association but it has a proven tradition of mentorship. AANA is essentially a meritocracy; an organization that seeks out young talent and rewards them, includes them, and promotes them. AANA rewards hard work and new ideas. We all know the mission of AANA is education and the essence of education is shared teaching and shared learning. Effective teaching and effective learning are predicated on effective collegial exchange and engagement. William Arthur Ward eloquently pointed out that "The mediocre mentor tells, the good mentor explains, the superior mentor demonstrates, but the great mentor inspires."5
An effective mentor is someone who guides us to realize, understand, and actualize our full potential. Someone we watch and listen to and actually also hear. Someone who provides formative feedback and summational evaluation. In training residents, we commonly refer to the hidden curriculum in teaching and learning how to be more of a professional, more of an effective communicator, and more empathetic.6 The importance of behavioral modeling with observation, translation, reflection, and implementation: and when it comes down to it, actually effective adoption and imitation of how your mentor acts in certain situations when challenges arise.
I have had the good fortune of recognizing many mentors in my life. People I have watched carefully and listened to and emulated. Personally, one of my first mentors and role models was my Mother, Jennie. My Mother grew up speaking Italian and she taught herself English. She was for me the inspirational and positive force for education, learning and aspiration. She taught me to dream. She gave me the confidence to realize there was potential to meet challenges head on and to recognize opportunities and to reach for them.
Professionally I must share that during my orthopaedic residency at the Hospital for Special Surgery, I met two individuals that had a profound positive effect on my clinical career. The first was Dr. Philip Wilson, Jr., a Past President of the Academy and who at the time was the Surgeon in Chief at HSS. Dr. Wilson was an iconic academic figure and leader but he taught me that professionalism, empathy and taking outstanding care of patients were the most important lessons to learn. Dr. Wilson showed me how to listen to patients and how to truly hear what they were saying. The other person that I had the good fortune to work under was Dr. Russ Warren who at that time was the Chief of Sports Medicine at HSS. Dr. Warren impressed upon me the importance of clinical research as a credible complement and balance to patient care. Russ was and is one of the hardest working physicians I have ever met and he showed me that when you think your job may be done, you must push a bit harder and a bit stronger.
I have also been blessed to have many AANA mentors who have taught me much: Many of you are sitting before me. There are too many to mention but I am compelled to celebrate a few. I had the good fortune to watch closely and learn the true value of leadership from Dr. Whit Ewing who has wisely served this organization as President and Executive Vice President. I have learned much from Dr. Rick Ryu on how to effectively run a committee or board meeting and how to articulate and craft action items and then execute them. I have been taught much by Dr. Rick Angelo whose balanced ability to focus, deliberate fairly, and then implement and follow through, has inspired me. I have tried to emulate Dr. Buddy Savoie who has successfully shown so many of us how to be better teachers and more effective international AANA ambassadors. AANA is truly blessed to have such talent.
More importantly, the individuals driving this Association have continued to deliver. AANA has reached numerous critical milestones recently and I wish to highlight several exciting achievements. Important educational inroads have been realized under the leadership of our immediate Past President Rick Angelo and his multiple Magellan and Copernicus educational task forces. We are poised to powerfully change the paradigm of how we educate and how we see the world. We are currently well positioned to implement proficiency-based educational metrics and programs to better deliver and assess bioskills education and learning.
We have a new partnership and enhanced unity shepherded by Dr. Les Matthews and his Learning Center Task Force and we have collaborated with the American Academy of Orthopaedic Surgeons and initiated the redesigning and building of a new Orthopaedic Learning Center. A Learning Center that is much more than a bricks and mortar project but rather an opportunity to rethink and reshape our educational approach to surgical skills training.
Under the outstanding editorial leadership of Drs. Gary Poehling, Jim Lubowitz, and Matt Provencher, the Arthroscopy journal continues to lead us scientifically and academically, widening our world and making this publication a global leader. In fact 61% of our 2012 submissions were international. Arthroscopy is ranked 6th of all orthopaedic titles with a remarkable impact factor of 3.024. The Journal received 887 submissions in 2012 with a rigorous 17% acceptance rate for original scientific articles. This year our Journal has expanded the print publication by 500 additional pages to meet the demand for high-quality submissions.
In a clear cut significant response to rapidly evolving digital media, the AANA Board and Journal leadership convened a Technology Summit in New York City in 2012 to bring together the best and brightest minds in arthroscopy, digital technology, medical industry, and publishing. Many compelling educational conclusions were drawn from that summit including the importance of shaping the launch of the new open-access online peer-reviewed video e journal: Arthroscopy Techniques, and enhanced membership communication using Facebook and Twitter.
Yesterday it was inspiring for me to listen to our Presidential Guest Speaker Eric Greitens address this esteemed group and share his experiences in Leadership and Adversity. In his bestselling book, "the Heart and the Fist,"7 Eric relates his insights and experiences regarding adversity. He relates the story about training to box competitively and setbacks encountered in the war in Afghanistan: how getting knocked down is all about getting back up.
I am compelled to share a story with you today. A story about getting knocked down and getting back up. A story that defines me now and forever. Like others challenged with delivering a meaningful keynote address, I read all of the published AANA presidential speeches, as well as the AOSSM speeches, and the AOA addresses. Most of my erudite colleagues have shared their brilliant vision and understanding about education, patient care, and the changing landscape of medicine. I have chosen to share something else today. I wish to reach others who have faced or may someday face personal adversity.
As Past President and celebrity philosopher Jim Esch once said to me as only Jim Esch could, saddled up to a bar in Scotland writing philosophical notes on a cocktail napkin: "When you're up there, people will want to know what makes you tick." I must turn back to my family. Because I can simply tell you, that is what makes me tick:
My Personal Family. My Extended Family. My Work Family. And My AANA Family.
The title of this address was to be "Family First."
However, the title and the story changed in 2010 when faced with extraordinary personal adversity. Leadership can be sustaining in the face of adversity. I feel I may know a bit more about adversity and somewhat less about leadership, but I have come to value leadership in all aspects of my everyday life. You see, I have come to value the great clarity and vision that has come with dealing with a life changing event.
There is a famous quote by an unknown author, "Adversity is a fact of Life. It cannot be controlled. What we control is how we react to it." I am compelled to share with you my belief that how we cope comes from how we are raised. It starts at home.
I was born in a 3-story walkup in Brooklyn, what would be called a tenement, although we did not know it. My parents lived in one room of a two-room apartment on the second floor with my grandparents. When my brother and I were born, we all lived in the same room. My grandparents came proudly to this country from Italy. Hard work was instilled early. Opportunities were limited, labor was not. My paternal and maternal grandfathers worked in a laundry and in a brickyard, respectively. Pride in the simplest things in life was natural.
The most significant memory I had of my Father was of how hard he worked. He owned a gas station, he was a mechanic He did not complete high school, He worked 7 days a week: There were no days off. There were no vacations. But there was richness to his life and I have always been so proud of him. I was the first in my family to go to college or to attend medical school. The challenges were viewed as opportunities. My mother and father would say that success in life takes three things: hard work, perseverance, and hard work, and not necessarily in that order. Much to my parents' joy, success and good fortune followed with a too good to be true career in medicine and orthopaedics and sports medicine. I joined many professional societies but gravitated towards AANA based on the friendships I made and those mentors who welcomed my efforts.
More recently, I have served as the chair of the North Shore Long Island Jewish Medical Center Department of Orthopaedics, which spans 12 hospitals, 120 orthopaedic surgeons, and 47 orthopaedic residents. It is the first new medical school in New York State since 1974.
I am often asked by many: Why would you ever want to do that? Why would you ever want to run an orthopaedic department? My colleagues would say to me that dealing with impatient administrators, unhappy docs, and moving targets in health care has to be worse than trying to herd a bunch of cats. It's actually a great job, although it actually is a lot like "herding cats." Challenging but rewarding.
The year 2010 was to be a defining year. In May 2010, I was elected to the AANA Presidential Line and in June 2010, I was appointed Chair of my orthopaedic department and at our medical school.
My wife Leslie and I were thrilled to savor the moment and so thankful for what life brought to us. That summer, while on vacation, my wife Leslie swam out to save a 10-year-old boy pulled away by a riptide. The boy lived. She gave her life. For those who knew Leslie, no words are necessary, for those who did not know her, no words are enough. She was the center of my world. Leslie was the source of my daily inspiration and all of my home balance. How do you get over it? You don't.
So how do you process it? I am not sure, but this is what I think: Robert Frost said so eloquently that the "the best way out is always through." With my amazing children, I went right at it, we moved as gracefully and as forcefully as we could. There are a few constants: The extraordinary strength of my children and friends has sustained us. I have learned much from my kids: Mark Twain was right on when he said: "the most interesting insights come from children, because they tell all they know and then they stop."
Peace for me is realizing and counting more of the positives. Peace is moving in a trajectory or path that is meaningful and deliberate. Peace is making someone's day better, and giving more than taking. Peace is celebrating Leslie.
Lou Holtz, former Notre Dame Football coach said it well "There are two types of people, those who lift up and those who pull down. You cannot lift other people up if you are not positive." I have searched deeply for my faith and said many prayers. I wish to leave you with one as stated by Reinhold Niebuhr. "God grant me the serenity to accept the things I cannot change, the courage to change the things I can, and the wisdom to know the difference."
I wish to acknowledge my brother and sister who traveled to Texas to be here today. Thanks for your special friendship and ability to ground me. I wish to acknowledge and thank three people who have deeply understood much of what it is really like back home and who have had the compassion to make a difference and stay connected to my family. To Don and Chris and especially to Ela. To my professional family: to my assistant Carrie DeJong for managing me for the last 16 years, I remain indebted to you for always going the extra mile. I would like to thank my partners of 24 years Dr. Stan Asnis and Dr. Lewis Lane who are here today. I have treasured your friendship and your understanding, and for respecting what teaching and AANA has really meant to me. You have been my role models in our practice and I have learned from you the art of medicine. Thanks to our department's Executive VP Nina DePaola and to my Vice Chairman Dr. Tom Mauri who make running an orthopaedic department that spans 12 hospitals a piece of cake and actually more fun than herding cats. To the residents I have the privilege of working with, you define for me the true value of giving back, and you make better, through your challenging questions and fresh ideas.
To my children Nicholas, Caroline, Jonathan, and Matthew: Helen Keller said: "What we have once enjoyed we can never lose. All that we love deeply becomes a part of us." You now I know Mom is here today. Einstein said: "Life is like a bicycle, in order to keep your balance, you have to keep moving."
AANA is moving also…
I am appropriately excited for the future of this great organization. I appreciate your friendship and your attention. I am indebted to you for this opportunity to speak from my heart. I celebrate today and I am grateful for tomorrow. Thank you for allowing me to serve as your president.
It's been a great ride.
Nicholas A. Sgaglione, M.D.
_____________________________________
Address correspondence and reprint requests to Nicholas A. Sgaglione, M.D., 611 Northern Blvd, Great Neck, NY 11021. E-mail: nas@optonline.net.
References
1. Burkhart SS, Lo IKY, Bady PC, Denard PJ. The cowboy's companion. Philadelphia: Lippincott Williams & Wilkins, 2012.
2. Gladwell M. The tipping point. New York: Little Brown, 2000.
3. Nye J. The powers to lead. New York: Oxford, 2008.
4. Heath C, Heath D. Switch: How to change things when change is hard. New York: Random House, 2010.
5. Knowles E. Oxford dictionary of quotations. New York: Oxford, 2009.
6. Haller E. Leadership and adversity. Saarbrücken, Germany, VDM, 2008.
7. Greitens E. The Heart and the fist. Boston: Houghton Mifflin Harcourt, 2011.