Media Contact:
Tony Davenport
North Shore-LIJ Health System
Phone:
516-465-2755
Send an E-mail
Date: Jun 19, 2015
LIJ Medical Center Receives Highest Nursing Credential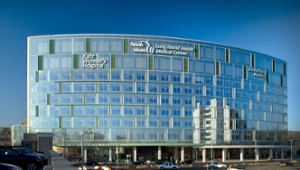 NEW HYDE PARK – LIJ Medical Center has been recognized by the American Nurses Credentialing Center (ANCC) with a Magnet Recognition Program® designation.
The credential recognizes healthcare organizations for quality patient care, nursing excellence and innovations in professional nursing practice. In the nursing profession, Magnet recognition is considered the gold standard of quality, safety and improvement; intradisciplinary and interdisciplinary teamwork; knowledge of evidence-based practice and research; and formal nursing education.
U.S. News & World Report uses Magnet designation as a criterion when it determines "America's Best Hospitals." Of more than 6,000 hospitals in the nation, only seven percent have achieved Magnet status. LIJ  became the 22nd Magnet facility in New York State and is distinguished as the first tertiary hospital and third facility in the North Shore-LIJ Health System to achieve Magnet status – along with Huntington Hospital and Northern Westchester Hospital in Mount Kisco.
LIJ clinched the four-year designation with its performance in nursing quality indicators, particularly in low infection rates, falls and pressure ulcer rates, and high RN and patient satisfaction scores.
"Patient satisfaction is a challenge for every hospital and especially for us when you consider our emergency room volume has increased significantly over the past several years "said Margaret Murphy, RN, LIJMC chief nursing officer.
LIJ is very strong in shared governance, with frontline staff having a voice in decision making, said Linda Vassallo, RN, senior administrative director, patient care services, and Magnet program director. "The true staff professionalism was evident at the onsite visit when appraisers saw the very strong interprofessional relationships in our committees and councils."
Magnet appraisers also were impressed with the professional development of LIJMC nurses. Approximately 56 percent of RNs in the nation hold a baccalaureate degree and the Future of Nursing Institute of Medicine Report 2010 calls for 80 percent of RNs to hold a baccalaureate by 2020. "We're already at 81.7 percent!" Ms. Murphy said.
Forty-two percent of LIJMC nurses hold professional certifications – well above the national benchmark.
Magnet appraisers recognized LIJMC's innovative initiatives, including in technology, and particularly the "Murphy Cabinet," a custom-designed cabinet, accommodating the latest technology to "facilitate nurses spending more time at the bedside," Ms. Vassallo said.
Magnet recognition bestows many benefits, including public reinforcement of LIJMC as a Center of Excellence, Ms. Murphy said.
Magnet facilities outperform other hospitals in both recruiting and retaining nursing professionals. "We are already an employer of choice," Ms. Murphy said. As a Magnet facility, LIJMC can promote its high retention and low vacancy rates and "compete for and hire the best of the best."
Achieving Magnet recognition "is not a destination," Ms. Murphy added. The rigorous, lengthy process requires "many years, hard work, staff engagement and having the right people in the right structure to build to where you are ready to even apply for Magnet status." The current LIJ CNO credited her predecessor, Kerri Scanlon, RN, CNO at North Shore University Hospital and deputy nurse executive for the North Shore-LIJ Health System, for "creating a culture of excellence. That doesn't happen overnight, it requires a strong commitment and support from the executive leadership team also."
For more information about Magnet recognition and the North Shore-LIJ Health System, visit www.northshorelij.com.