Media Contact:
Adrienne M. Stoller, MA
Office of Communications
School of Medicine
Phone:
516-463-7585
Send an E-mail
Date: Jun 26, 2015
School of Medicine Receives $50,000 Grant Renewal for Medical Scholars Pipeline Program
High school students from Brooklyn, Queens, and LI to begin program on June 29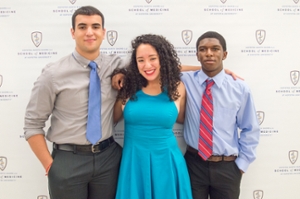 Photo: Medical Scholars Pipeline Program participants (left to right):
Vicram Govindan; Constanza Cabrera; and Stephon Henry-Rerrie (2014)
Dedicated to improving the lives of young people in poor communities, the Pinkerton Foundation has renewed a $50,000 grant to benefit the Hofstra North Shore-LIJ School of Medicine's Medical Scholars Pipeline Program (MSPP), an initiative designed to expose high-achieving minority students to careers in the healthcare professions with the goal of diversifying the future healthcare workforce.  
Entering its sixth year, the MSPP will welcome more than 60 high school students from Brooklyn, Queens, Hempstead and Uniondale on Monday, June 29 at the School of Medicine.  The MSPP is designed as a multi-year four-week summer program for young scholars from underserved areas, and is an integral part of the school's core mission to advance and nurture a diverse and inclusive learning community.
"We are pleased and honored to once again receive this award from the Pinkerton Foundation," said Lawrence Smith, MD, MACP, founding dean of the School of Medicine. "The Pipeline Program reflects our school's strong belief that our future physicians and healthcare professionals need to reflect the growing diversity of our surrounding community and country at large."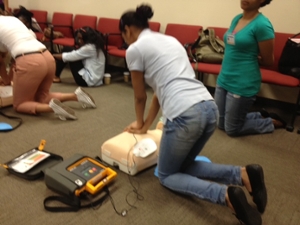 Funds from Pinkerton will help to provide the MSPP with Kaplan (P)SAT preparation courses for the 11th and 12th graders, as well as CPR/AED training classes and a host of educational activities for all student participants.  The MSPP at the School of Medicine works collaboratively with the Gateway Institute for Pre-College Education at The City College of New York to recruit and support minority public school students in their higher education goals and pursuit of health careers.  It's a partnership that continues to yield success for hard-working students in need. 
In fact, 18 MSPP scholars and recent high school graduates are off to college in fall 2015 to schools such as M.I.T., Yale University, Trinity College, Cornell University, and Syracuse University.  What's more, three scholars will be enrolled at the Sophie Davis School of Biomedical Education at the City College of New York and one plans to continue undergraduate studies in the BS-BA/MD program at Hofstra University.  This year's Pipeline Program includes 25 rising 11th graders, 24 rising 12th graders, and 12 upcoming college freshmen.
"With the assistance of a professional college consultant working with our high school junior and senior scholars," said Gina Granger,  coordinator for special programs, "I'm confident we will continue to see our scholars develop the skills needed to successfully gain admission to undergraduate and health professional schools."
About The Pinkerton Foundation
The Pinkerton Foundation is an independent grant-making organization founded by Robert Allan Pinkerton, the Chairman and CEO of Pinkerton's, Inc., one of the nation's oldest and largest security companies. Established in 1966, the Pinkerton Foundation supports community-based programming that combines capable leadership, engaging activities, mentoring by caring adults, and academic training to further economically disadvantaged students in New York City.