Media Contact:
Carole Trottere
School of Medicine
Phone:
(516) 463-7585
Send an E-mail
Date: Jul 24, 2013
Hofstra North Shore-LIJ School Professor Receives Award for Research in Clinical Microbiology
Christine Ginocchio played crucial role in 2009 New York City flu outbreak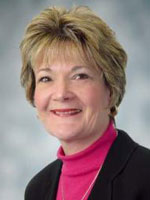 Dr. Christine Ginocchio, 2013 recipient of the Becton Dickinson award for her lifetime accomplishments in clinical microbiology.
School of Medicine Professor of Pathology and Laboratory Medicine Christine Ginocchio, PhD was recently given the Becton Dickinson award by the American Society for Microbiology for her lifetime accomplishments in research in clinical microbiology. Dr. Ginocchio also serves as Senior Medical Director and Chief of Infectious Disease Diagnostics, Pathology and Laboratory Medicine at North Shore-LIJ Health System.
Ginocchio and her laboratory played a crucial role in combating the 2009 New York City outbreak of the influenza A H1N1 virus by helping to determine the best diagnostic methods for this disease. Ginocchio has helped improve patient care by achieving a faster and more comprehensive respiratory virus diagnosis process.
"Being able to provide certainty and an accurate diagnosis based on my team's scientific research about many infectious diseases and thereby accelerating the initiation of patients' treatments is extremely gratifying," Ginocchio said.
In receiving the BD award, Ginocchio also gave the laureate research presentation about diagnosing sepsis at the 113th meeting of the American Society of Microbiology in Denver, Colorado. With this life-threatening infection, it is critical to be diagnosed as quickly as possible to rapidly begin treatment. Ginocchio uses a method that tests a patient's blood and diagnosis can be received one to three days sooner than other tests.
Ginocchio is also co-editor-in-chief of the Journal of Clinical Virology and was the recipient of the Pan American Society of Clinical Virology award in diagnostic virology. She has been the principal investigator for more than 60 federal and New York State-funded research studies and clinical trials.
Nominations for the BD award come from microbiologists' peers and the selection is also made by fellow microbiologists.
##