Media Contact:
Adrienne M. Stoller
Office of Communications
School of Medicine
Phone:
516-463-7585
Send an E-mail
Date: Jul 31, 2014
Hofstra North Shore-LIJ School of Medicine Receives $50,000 Award for Medical Scholars Pipeline Program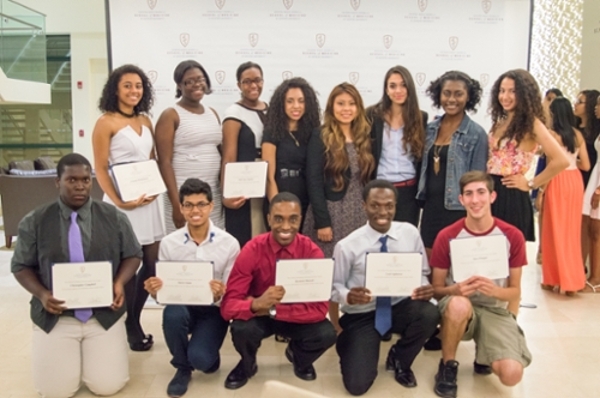 We're College Bound:  Medical Scholars Pipeline Program 2014 
Front row (left to right): Christopher Campbell-Hunter College; Tanvir Islam-William E. Macaulay Honors College; 
Kyumon Murrell, Northeastern U.; Louis Aghanwa, Harvard U.; Nicolas Panduri, Hofstra U.; Back row (left to right): 
Arrianna Mohammed, Hofstra U.; Alexine Ralph, St. John's U.; Jodi-Ann Charlton, Sophie Davis School of Biomedical Education;
Mayelin Hernandez, Emory U.; Jennifer Munoz, U. of Buffalo; Sara Elnager, Fordham U.; Safirya Ambersley, Howard U; and Danielle Parker, Hunter College.
Not shown: Matthew Inoa, Hofstra University; Sheena Pierre, MaCaulay Honors College; and Devon Sam, Hofstra University.
Hempstead, NY—Dedicated to improving the lives of young people in poor communities, the Pinkerton Foundation has generously awarded a $50,000 grant to benefit the Hofstra North Shore-LIJ School of Medicine's Medical Scholars Pipeline Program (MSPP), an initiative designed to expose high-achieving minority students to careers in the healthcare professions with the goal of diversifying the future healthcare workforce.  
The Pinkerton Foundation is an independent grant-making organization founded by Robert Allan Pinkerton, the Chairman and CEO of Pinkerton's, Inc., one of the nation's oldest and largest security companies. Established in 1966, the Pinkerton Foundation supports community-based programming that combines capable leadership, engaging activities, mentoring by caring adults, and academic training to further economically disadvantaged students in New York City.
At the School of Medicine, the MSPP was created as part of the school's core mission to advance and nurture a diverse and inclusive learning community. It is a designed as a multi-year four-week summer program for high-achieving students from groups underrepresented in medicine.  The Pinkerton grant funds will allow the School of Medicine to continue providing Kaplan (P)SAT preparation courses for the 11th and 12th graders, CPR/AED training classes, as well as a host of educational activities for an elite group of high school students from Brooklyn, Queens, Hempstead and Uniondale.  Nearing it's fifth year, the 2014 MSPP program enrolled more than 70 students.
"We are very pleased and honored to receive this award from the Pinkerton Foundation," said Lawrence Smith, MD, MACP, founding dean of the School of Medicine. "The Pipeline Program reflects the school's strong belief that our future physicians and healthcare professionals need to reflect the growing diversity of our surrounding community and country at large." 
The MSPP at the School of Medicine works collaboratively with the Gateway Institute for Pre-College Education at The City College of New York to recruit and support minority public school students in their higher education goals and pursuit of health careers.  In fact, many 2014 high school graduates and "Pipeline Scholars" will continue their education this fall at leading colleges, such as Columbia University, Harvard University, Howard University, Northeastern University, Fordham University, Hofstra University and other outstanding institutions. The college-bound students shared their exciting news during the 2014 MSPP closing ceremony held on July 24, including inspiring remarks from former first lady of New York, Michelle Paige, the event's keynote speaker.
"Programs like the Medical Scholars Pipeline Program at the School of Medicine reinforce the importance of maintaining our well-being and future as communities of color," said Paige, who established the statewide "Healthy Steps to Albany" initiative that educates kids and communities about health and wellness. "When we work together, we can achieve anything."  
For more information about the Medical Scholars Pipeline Program at the School of Medicine, please visit http://medicine.hofstra.edu/about/diversity/diversity_pipeline.html or contact Gina Granger, MA, Coordinator for Special Programs, School of Medicine, at 516-463-7550.