Media Contact:
Adrienne M. Stoller
Office of Communications
School of Medicine
Phone:
516-463-7585
Send an E-mail
Date: Aug 07, 2014
School of Medicine faculty member, Dr. Joel N.H. Stern, Publishes Pivotal MS Study
Results May Point MS Treatment and Prevention in a New Direction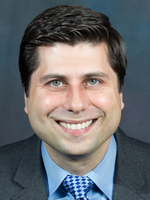 Joel Stern, PhD, Assistant Professor of Science Education,  Hofstra North Shore–LIJ School of Medicine, publishes breakthrough research that pinpoints the origin of the cell that is alleged to cause multiple sclerosis (MS)—a discovery that may open new doors in the treatment and prevention of MS.  Findings are available in the latest issue of Science Translational Medicine. 
"The brain of an MS patient contains a type of immune cell—called a B cell—that current research believes may be ​one of the cells responsible for attacking brain tissue, but we have been unable to ​determine where ​in the body these cells are taught to attack brain tissue," explained Joel N.H. Stern, PhD, assistant professor of science education at the School of Medicine. "Our objective was to determine the origin and map the course of these cell abnormalities in the hope of targeting them for further investigations in MS treatment."
Multiple sclerosis is a disease in which the immune system attacks the protective sheath (myelin) that covers the nerves.  Damage to the myelin disrupts communication between the brain and the rest of the body.  Ultimately, the nerves deteriorate—a process that is manageable with therapeutics, but irreversible.  Current MS treatments that help to manage symptoms call for drug regimens that diffuse in the brain.  However, because the brain has a protective barrier, targeted treatment is often difficult and ineffective. 
"Because B cells mutate as they migrate through the body's tissue, we can construct a family tree of these cells and determine the starting point," explained Stern. "Since B cells travel in and out of the brain of MS patients repeatedly, our results reveal that it is possible to target these cells with drugs that diffuse in the blood, rather than the brain, making therapeutics for MS much easier to develop and we believe, more effective."
While Stern's study looked at the migration of B cells between blood/lymph nodes and brain, another simultaneous investigation focused on movement between the blood and spinal cord.  Although concentrating on different regions of the central nervous system, both investigations share a critical common thread.
"Together, these two studies allow us to understand the movement of these disease-causing B cells in greater detail than ever before," said Stern.
In addition, Stern said that abnormal B cells found outside the brain can provide us with another way to monitor MS disease progression by maintaining a watchful eye on the population growth of B cells in the blood.  "It is an approach that can non-invasively evaluate different treatments and their effect on autoimmunity in people with MS."
For more information, please read the commentary article about this recent study at Science Translational Medicine.