Media Contact:
Office of Communications
School of Medicine
Phone:
(516) 463-7585
Send an E-mail
Date: Sep 20, 2013
Hofstra North Shore-LIJ School of Medicine Associate Professor to Lead $1.35 M Research Project at Feinstein Institute for Medical Research
Dr. Pekmezaris will study benefits of telehealth for heart failure patients
Dr. Vincent Vinciguerra, Professor of medicine at the Hofstra North Shore-LIJ School of Medicine.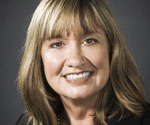 Renee Pekmezaris, PhD
Renee Pekmezaris, PhD, an Associate Professor of Population Health at the Hofstra North Shore-LIJ School of Medicine, will lead a $1.35 million research project at the Feinstein Institute of Medical Research to evaluate the success of telehealth in managing the health of elderly African Americans who have suffered heart failure.
The Feinstein Institute for Medical Research was been approved to receive the research award from the Patient-Centered Outcomes Research Institute (PCORI) to study if telehealth programs are effective self-management tools for patients with chronic disease. By using video and other telecommunications technologies, health care providers are able to remotely monitor patients in their homes while checking vital signs.
An estimated six million Americans have heart failure, which occurs when the heart muscle doesn't pump blood as well as it should. Prevalence of heart failure is more than 25 percent greater among African Americans than whites. Increasing prevalence, hospitalizations and deaths have made heart failure a major chronic condition in the United States, underscoring the need to find new and improved ways of caring for minorities with chronic conditions.
"Not every patient is the same. Some older patients are well-insured and have caregivers to help them, while others are very isolated and struggle with their disease on a daily basis," said Dr. Pekmezaris. "The only way to design technology solutions that work with older patients, especially those who may have traditionally experienced poor access to care, is to seek their input from the start. That is exactly what we propose to do with PCORI's support."
In Dr. Pekmezaris' study, health care providers will conduct weekly video visits with patients, utilizing a computer monitor in the patients' homes, while patients will monitor their own conditions daily. Input from patients and caregivers will be gathered at multiple points during the research so necessary adjustments in the intervention process can be made to ensure that patients are compliant and satisfied with the system. To ensure that proposed outcomes have relevance for a broader population, a community advisory board will have input with the research team throughout the study process. The community advisory board will include patients, caregivers, patient advocates, clinicians with different expertise (a geriatrician, heart failure specialist and community-based telehealth nurse), an insurance representative, a health policy expert and a health disparities expert.
Dr. Pekmezaris and her colleagues say they believe there is a possibility that the study will identify a cost-effective care approach for patients living with chronic disease. The goal, they say, is for patients to take a more-active role in their self care and ultimately experience improvements in health, satisfaction and quality of life. Knowledge gained from this study will further understanding of the use of telehealth programs as effective self-management tools, and can lay the groundwork for the management of other chronic conditions.
The Feinstein Institute will receive $1,353,160 over three years for this study, which is one of 71 projects totaling more than $114 million approved for funding by PCORI's Board of Governors on September 10. All were selected through a review process in which scientists, patients, caregivers and other stakeholders helped to evaluate more than 570 proposals that responded to five PCORI funding announcements.
Proposals were evaluated on the basis of scientific merit, how well they engage patients and other stakeholders, their methodological rigor, and how well they fit within PCORI's national research priorities. All awards were approved pending completion of a business and programmatic review by PCORI staff and issuance of a formal award contract.
"This project was selected for PCORI funding not only for its scientific merit but also for its potential to fill an important gap in our health knowledge and ultimately help patients and those who care for them make more fully informed decisions about their care," said PCORI Executive Director Joe Selby, MD, MPH. "The project reflects PCORI's commitment to support patient-centered comparative effectiveness research, a new approach to health research that emphasizes the inclusion of patients and caregivers at all stages of the study process. We look forward to following the study's progress and working with the Feinstein Institute to share the results."