Media Contact:
Adrienne M. Stoller
Office of Communications
School of Medicine
Phone:
516-463-7585
Send an E-mail
Date: Oct 02, 2015
Dr. Jennifer Mieres To Be Honored at The Association of Black Cardiologists Awards Gala
Celebration to honor individuals and organizations advancing cardiology and advocacy for health disparities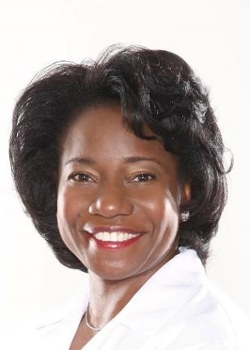 New York, N.Y. - The Association of Black Cardiologists (ABC) will honor Jennifer H. Mieres, MD (pictured) with the Dr. Walter M. Booker, Sr. Health Promotion Award at the 6th Annual "Spirit of the Heart" Awards Gala on Saturday, October 3 at Cipriani 42nd Street in New York City.  The annual celebration will salute Dr. Mieres for her outstanding contribution to the field of cardiology and advancement in health equity by eliminating cardiovascular disease disparities in the delivery of healthcare to the community.
Dr. Mieres is a leading advocate of patient-centered partnership in health care, gender equity and medical education reform. As an executive leader of the North Shore-LIJ health system's Office of Community and Public Health, Mieres is the first chief diversity and inclusion officer for the system with oversight of the Katz Institute for Women's Health. She is also the Medical Director of the Center for Learning and Innovation. At the Hofstra North Shore-LIJ School of Medicine, Dr. Mieres is professor of occupational medicine, epidemiology and prevention and professor of cardiology.
A prolific educator, Dr. Mieres will be saluted for her efforts in improving cardiovascular disease outcomes in the community as well as innovation in education including her Emmy-awarding winning documentary A Woman's Heart and new two-part documentary series Rx:The Quiet Revolution and Doctors of Tomorrow of which she is creator and co-executive producer.
ABC will also recognize her proficiency in clinical research as lead author of The American Heart Associations's guideline on diagnosing heart disease in women as well as global forum presentations and over 60 scientific publications. Dr. Mieres has also co-authored Heart Smart for Black Women and Latinas: A Five Week Program for Living a Heart- Healthy Lifestyle and is actively engaged in community service including serving as national spokesperson for the American Heart Association. 
The Association of Black Cardiologists (ABC), founded in 1974, has taken a leadership role in promoting the prevention and treatment of cardiovascular disease including stroke in blacks and other minorities and achieving health equity for all through the elimination of disparities in all people of color.
Celebrity Screen Actor and American Heart Association Spokesperson, Lamman Rucker will emcee the prestigious event chaired by Edward Lewis, Publisher and Co-Founder of Essence Magazine.  Attendees will be entertained by RCA Records Artist and NBC The Voice Alum Avery Wilson; a recently signed protege of Mega Producer Clive Davis.   Notable industry leaders, patient advocates, celebrities and allied healthcare professionals are confirmed to attend.
Other award recipients include, Dr. Gbenga Ogedegbe - (Dr. Daniel D. Savage Memorial Science Award); Dr. N. Anthony Coles - (ABC BioPharma Leadership Award); Novartis (ABC Spirit of the Heart Health Equity Award); Aetna Foundation (ABC Spirit of the Heart Health Promotion Award); Touro College of Osteopathic Medicine (ABC Spirit of the Heart Award).
For information on the "Spirit of Heart" Awards and the Association of Black Cardiologists, visit www.abcardio.org.
For press inquiries and media attendance, contact Living Hope Co. info@livinghopeco.com - 646-504-1191