Media Contact:
Carole Trottere
School of Medicine
Phone:
(516) 463-7585
Send an E-mail
Date: Oct 08, 2013
Multiple Casualty Incident Serves as Unique Training Experience for Med Students
Exercise hosted by FDNY at Randall's Island included a variety of disasters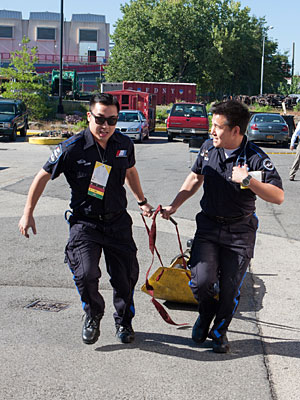 Medical students Jimmy Hom and Mark Kim triage victims in a simulated bus explosion.
Since beginning classes in August, 80 first year medical students at the Hofstra North Shore-LIJ School of Medicine have been training as emergency medical technicians, working shifts on North Shore-LIJ ambulances and responding to 911 calls. Their training culminated recently in a Multiple Casualty Incident (MCI) conducted at the FDNY Training Center at Randall's Island. Students were expected to provide emergency care during several different emergency exercises, which were all followed by full debriefing.
The MCI day was coordinated by the Fire Department of the City of New York at the department's Training Academy on Randall's Island, where more than 2,000 fire fighters and EMS personnel are trained each year.
"Now in its third year, the day at Randall's Island is always an exciting and invaluable experience for our first-year medical students," said Dr. Lawrence Smith, Dean of the School of Medicine. "Our students are very fortunate to have the unique opportunity to use the Training Academy to hone their skills and face the challenges of a variety of mass casualty incidents."
Medical students participated in a simulated subway catastrophe, terrorist bus bombing, car accident and an incident on a ship. Every student had an opportunity to perform exercises as an EMT and a victim.
"Randall's Island is a special event in a very special environment," said Dr. Thomas Kwiatkowski, Assistant Dean for Simulation and course director. "It allows students to experience a large-scale disaster in a near-realistic environment and an opportunity to practice their EMT skills in the rescue, triage and treatment of patients."