Media Contact:
Carole Trottere
School of Medicine
Phone:
(516) 463-7585
Send an E-mail
Date: Oct 10, 2011
Hofstra North Shore-LIJ School of Medicine Faculty Member Receives $5,000 Grant to Participate in Humanistic Medicine Education
Dr. Kenar Jhaveri will focus on improving care through better communication among healthcare team using 'narrative medicine'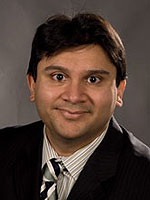 Hofstra North Shore-LIJ School of Medicine Assistant Professor Dr.  Kenar D. Jhaveri has received a $5,000 grant from the Arnold P. Gold Foundation to participate as a Gold Humanism Scholar at the Harvard Macy Institute Program for Educators to study how narrative reflection can improve the care provided by the health care team to patients with chronic renal  disease receiving dialysis treatments. The funding supports medical educators working to develop and enhance educational projects focused on achieving humanistic patient care that can be replicated across a variety of healthcare settings.
Dr. Jhaveri will use the principles of narrative reflection, which includes reading, writing and sharing to increase one's capacity to reflect, as a way to channel and manage the health care team's thoughts, emotions and behaviors while dealing with patients and their families. This process instills humanistic approaches to care which are essential to patients suffering from a chronic disease, such as kidney injury.
 "Humanism in heath care must be present in everything a physician does when caring for a patient and Dr. Jhaveri's interest in this aspect of medicine is commendable," said Dr. Lawrence Smith, founding dean of the Hofstra North Shore-LIJ School of Medicine.  "We are very proud that Dr. Jhaveri has been recognized for this honor by the Arnold P. Gold Foundation." 
Dr.  Jhaveri is an Assistant Professor of Medicine in the Division of Kidney Diseases and Hypertension at the Hofstra North Shore-LIJ School of Medicine and is a core faculty member of the medical school and the Department of Internal Medicine. After graduating from SUNY Upstate Medical University at Syracuse, NY, he completed his residency training at Yale University New Haven Hospital in Internal Medicine and then a fellowship in Nephrology at New York Presbyterian Hospital-Weill Cornell campus. 
Dr. Jhaveri's interest in narrative medicine was piqued after attending one of the School of Medicine's lectures on the subject. Narrative medicine is a discipline of medicine that focuses on the importance of self-reflection and assessment to enhance professionalism, humanism and ultimately, patient care. Dr. Jhaveri said that he intends to incorporate regular "reflective group meetings" for the health care team, which will include not just the physicians, but other staff members as well.
"Taking care of End Stage Renal Disease patients on dialysis is challenging and is compounded by high morbidity, various chronic medical problems and a multitude of psychological issues," said Dr. Jhaveri. "The team caring for these patients consists of physicians including the nephrologists, medical director, surgeons, internists and subspecialty consultants, nurses, technicians' social workers, dieticians, secretaries and others which may include dialysis educators, palliative care teams and others. Communication is the key in the care of such complex patients, as well as a clear understanding of each person's role. In the midst of a busy work environment of all these professionals, the humanism in taking care of these challenging patients can easily be lost."
Dr. Jhaveri also shares interests in taking care of patients with renal complications following bone marrow transplantation and chemotherapy( Cancer Nephrology). He is a columnist for the ASN Kidney news for the section called "Detective Nephron". His interest in nephrology education research is vested in using creative ways of teaching nephrology to the medical students, residents and fellows.  He has published on using social media, and other innovative tools (games, concept maps, role playing, and creative writing) to make nephrology a fun field.  He has conducted numerous faculty development seminars locally to teach these techniques of teaching medicine. He has an active role in the newly found medical school Hofstra NSLIJ School of medicine's renal curriculum and the reflective and assessment course. He continues to have interest in novel ways of sharing information that can make an impact on all fronts:- physicians, allied health staff and the patients. He is a fellow of American Society of Nephrology, American College of Physicians and National Kidney Foundation.
For more information about this grant visit: http://humanism-in-medicine.org/index.php/programs_grants/gold_foundation_programs/harvard_macy_institute_2012_program_for_educators