Media Contact:
Adrienne M. Stoller
Office of Communications
School of Medicine
Phone:
516-463-7585
Send an E-mail
Date: Nov 02, 2015
Coping With Suffering Through Creativity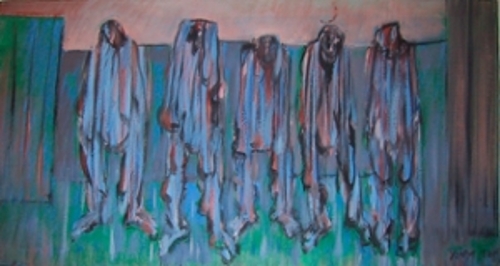 Prisoners by Yonia Fain
On display at the Enduring Images exhibit, Hofstra University.
The Osler Society of the Hofstra North Shore-LIJ School of Medicine, in partnership with the Hofstra University Museum (HUM), presented an evening of art, classical music and history that focused on the cathartic use of the arts to cope with pain and suffering.   
The free program entitled, "Coping With Suffering Through Creativity," held on Thursday, October 29 from 5pm to 8pm, welcomed many students, faculty, staff and guests from Hofstra and across the North Shore-LIJ Health System.
From painting to prose, the evening began in the David Filderman Gallery at HUM with a showcase of Enduring Images, an exhibit featuring a lasting record of artists' visual responses to critical moments in time.  Artist Yonia Fain, a Holocaust survivor and considered a "witness to history" was among the pieces (shown above), along with works from artists George Grosz, Käthe Kollwitz, and Jacob Lawrence.  The exhibition is open to the public now through January 31, 2016 (view artwork).
"The exhibit is a tribute to the role of the artist as crucial to providing the humanistic side of the events of our past and our present," said HUM executive director, Beth E. Levinthal who worked closely with Lisa Martin, coordinator for the Osler Society, to organize festivities. "These works represent an indelible, visual record for all time."
The program continued in Hofstra's Mack Student Center Theatre with a lecture by David Pelcovitz, MD, the Gwendolyn and Joseph Straus chair in psychology at Yeshiva University, who spoke about the link between creativity, trauma and coping.  In his talk, Dr. Pelcovitz highlighted the works of Edgar Allen Poe, and presented a brief film clip featuring the oldest-living Holocast survivor at 109 and her piano play—a talent and passion that spared her from the fate of encampment during World War II. 
The discussion was followed by a live concert from the Motyl Chamber Ensemble, an award-winning group of dynamic young artists that perform music by composers whose lives were cut short or radically transformed by the Nazi regime. Formed in 2003, the New York ensemble's name, Czech for 'butterfly,' is derived from the poem "The Butterfly" written by Pavel Friedman at the Terezín concentration camp. 
"Art can sharpen perceptions, increase emotional sensitivity, and bring up deep issues," said Dr. Pelcovitz. "It is the power of connection and coping."
Mark your calendar for upcoming Osler Society programs, including a book presentation and signing by the authors of The Strange Case of Dr. Doyle:  A Journey into Madness & Mayhem on Wednesday, November 18, 2015 at the School of Medicine. 
For more information about the Osler Society of the Hofstra North-LIJ School of Medicine and other events, visit www.medicine.hofstra.edu.