Media Contact:
Adrienne M. Stoller
Office of Communications
School of Medicine
Phone:
516-463-7585
Send an E-mail
Date: Nov 05, 2015
Student Research Making a Difference
Scholarship Day 2015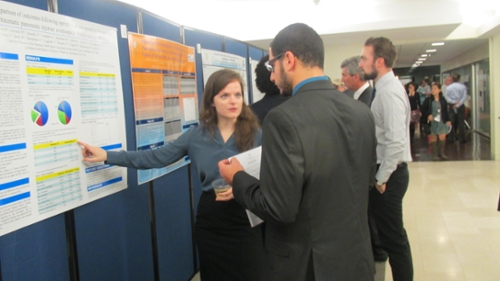 Second-year medical student Poppy Addison discusses her collaborative study in traumatic pancreatic injuries.
The Hofstra North Shore-LIJ School of Medicine hosted its fourth annual Scholarship Day on Wed., Nov. 4, 2015, 6pm to 8pm, an event revealing the investigative work of nearly 70 MD and MD/PhD students.
Scholarship Day is held each fall at the School of Medicine to showcase new knowledge contributed by medical students of all years of study who participated in summer research activities. Students display their work in poster presentations and discuss the basis for their investigations with event participants and attendees.
This year's Scholarship Day featured more than 60 posters on a wide range of topics in medicine, including cancer, cardiology, fractures, substance abuse, prescription monitoring, surgical techniques, brain imaging, mentoring in training, healthcare leadership, and health disparities. All student investigations were guided from start to finish by School of Medicine faculty mentors.
"What I find compelling is that our students are not only doing research in the lab, they're also out in the communities conducting a host of epidemiologic studies that seek to uncover the root causes of disease and health problems," said School of Medicine Dean Lawrence G. Smith, MD, MACP.  "It is information that is critical for developing better approaches to care and prevention, especially considering our diverse population."
The School of Medicine would like to thank generous supporters of our student research efforts, especially the Dr. Leo Guthart Chair Endowment, the Meadowbrook Women's Initiative, and the Cheryl Manne Foundation.
For more information about Scholarship Day and other programming at the School of Medicine, please visit medicine.hofstra.edu.