Media Contact:
Adrienne M. Stoller
Office of Communications
School of Medicine
Phone:
516-463-7585
Send an E-mail
Date: Nov 23, 2015
Physician-Authors Reveal Real-Life Mystery and Mayhem in The Strange Case of Dr. Doyle
School of Medicine Humanities in Medicine program hosts book signing/lecture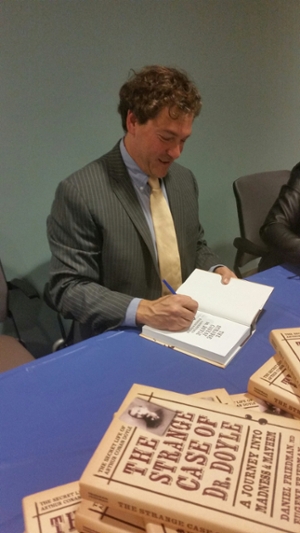 In 1905, the chief police surgeon for the City of London led a group of crime enthusiasts on a guided tour of the notorious Whitechapel murders of "Jack the Ripper," the name given for the serial killer who slaughtered a number of prostitutes in the East End of London in 1888.  Joining the tour that day was Sir Arthur Conan Doyle, physician and creator of the greatest detective, Sherlock Holmes.  
An invited guest of Scotland Yard, Doyle's presence during the Whitechapel tour wasn't deemed unusual or suspicious, and neither was his great fascination with the infamous murderer. But perhaps it should have been—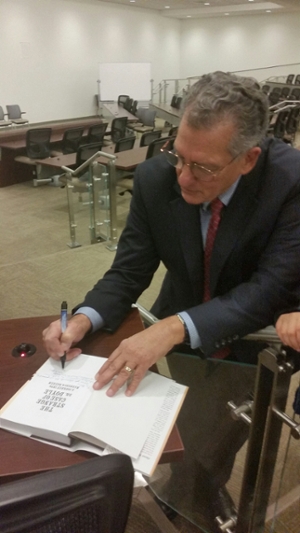 The Strange Case of Dr. Doyle: A Journey into Madness and Mayhem, a book recently released by father-son authors and Hofstra North Shore-LIJ School of Medicine educators, Drs. Eugene Friedman and Daniel Friedman, sheds new light and theories on one of the world's most gripping whodunits.
"Our book alternates between biography and tour," said lead author and pediatrician Daniel Friedman, MD, (photo left) during a book signing/lecture at the School of Medicine on Nov. 18 sponsored by the Humanities in Medicine program. "You become a Holmes-like detective, unearthing facts, discovering details, and sifting through critical evidence that leads to some undeniable revelations and links between Doyle and the infamous killer."
A featured selection of the Mystery Guild Book Club, The Strange Case of Dr. Doyle offers a fictional version of the 1905 Whitechapel visit by placing Doyle in the role of tour guide. Telling the tale of Jack the Ripper through Doyle's point of view, the reader is transported to the scenarios and scenes of each murder while also gaining a well-researched and unique account of Doyle's life—where fact and fiction fuse eerily together.  
"Based on tremendous research and careful, comparative analysis of the Whitechapel murderer's profile to the professional, personal, psychosocial makeup of the man that was Sir Arthur Conan Doyle," explained Eugene Friedman, MD, (photo right) professor of medicine, pediatrician and NSLIJ board of trustee, "we believe that Doyle is Jack the Ripper."
Growing Suspicions
Dr. Daniel Friedman's interest in Sir Arthur Conan Doyle began as a childhood fan of the Sherlock Holmes novels. It wasn't until medical school that Dr. Friedman began to delve further into Doyle as a physician. "I investigated the professional works of Doyle and came across his medical school thesis on syphillis," said Friedman. "At the time, it was a topic that was highly stigmatized and avoided, yet it was written in the form of a personal vignette—I found it curious and wanted to know more."
A self-professed amateur sleuth, Dr. Friedman's probe into Doyle's professional background led to discoveries of his personal perils and uncanny knowledge of the Ripper case. It was an interest that exposed some chilling parallels, Friedman explained. From Doyle's dysfunctional family upbringing, health issues possibly due to syphillis exposure, and crusade against prostitution, to his expertise as a surgeon and prolific mystery writer with unprecedented access to Scotland Yard's confidential contents—including Whitechapel case files and evidence—the facts fit together. The book has been nearly 20 years in the making.
"We didn't set out to prove Dr. Doyle was Jack the Ripper," said Dr. Friedman, "but each time we tried to prove that Doyle wasn't the one—we unearthed evidence that he was."  Doyle's preoccupation with the serial killings coupled with his unprecedented exposure to key evidence fuels suspicions of guilt, and a debate that will continue for years to come.
"Just like the stories of Sherlock Holmes," said Dr. Eugene Friedman, "a murderer always returns to the scene of the crime."
Click here for more about The Strange Case of Dr. Doyle. 
For information about the Humanities in Medicine programming and events at the School of Medicine, please visit www.medicine.hofstra.edu.