Media Contact:
Adrienne M. Stoller
Office of Communications
School of Medicine
Phone:
516-463-7585
Send an E-mail
Date: Dec 03, 2015
Dr. Melissa Pawelczak Accepted to Educational Scholarship Program of the Academic Pediatric Association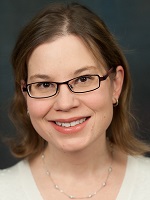 The Hofstra North Shore-LIJ School of Medicine congratulates Melissa Pawelczak, MD, assistant professor of science education and pediatrics, on her recent acceptance to the Educational Scholarship Program (ESP) of the Academic Pediatric Association (APA). 
Dr. Pawelczak joined the School of Medicine in 2014 as a case-based learning facilitator, and has since become a co-director of the Advanced Clinical Experience, the School's curriculum program for third year medical students.  After receiving her undergraduate education at Hofstra University, she earned her medical degree from the State University of New York at Stony Brook School of Medicine and completed her residency training at the Stony Brook University Medical Center, where she was named chief resident in Pediatrics. Dr. Pawelczak continued her post-graduate work as a fellow in Pediatric Endocrinology at the New York University School of Medicine, followed by an academic appointment at New York Medical College as Assistant Professor of Pediatrics.
The APA's educational scholarship program is offered to members who wish to earn a Certificate of Excellence in Educational Scholarship. The curriculum includes development of an educator portfolio, a mentored project, didactic sessions, and self-directed learning activities. Scholars complete the full curriculum, including projects, over three to four years. The ESP Executive Committee directs the selection of scholars, and seeks those with outstanding credentials and recommendations, a dedicated mentor, and documentation of institutional support, as well as a sound and innovative project proposal that will positively impact education.
"My project proposal involves evaluating the efficacy of educational interventions following a formative Entrustable Professional Activity exercise in improving fourth year medical student entrustability and confidence," said Dr. Pawelczak. "This opportunity is incredibly invaluable in terms of academic and professional development, I'm looking forward to learning from ESP program leaders and making connections with other scholars."