Media Contact:
Adrienne M. Stoller
Office of Communications
School of Medicine
Phone:
516-463-7585
Send an E-mail
Date: Dec 08, 2015
School of Med Students On the Right Track
Backstretch Workers at Belmont Benefit from Humanistic Approach to Care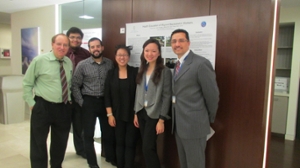 Pictured left to right: Paul Ruchames, LCSW, Executive Director, BEST; second-year students: Hugo Ortega,Julian Gonzalez, Jennifer Kim, and Christie Chen; Adam Aponte, MD.
Before a thoroughbred races down the homestretch, a great deal of practice and preparation happens on the "backstretch," the area just beyond the racetrack where the strenuous and often dangerous task of caring for triple-crown hopefuls rests with hard-working laborers, many who face complex health/wellness issues unique to their occupation and population. It's the needs of this population that motivated students at Hofstra North Shore-LIJ School of Medicine to step up to the start gate and do their part to help to improve the lives of these individuals.
Beginning last summer as a community service learning project funded by an Arnold P. Gold Foundation Grant, School of Medicine students entering their second year embarked on a mission to create and deliver a healthcare/wellness education program at Belmont for "migrant Backstretch" employees, mostly immigrant Spanish-speaking laborers, who tend the stables and care for horses at the celebrated racing venue. These workers also travel from race track to race track on seasonal basis.
A collaborative effort, the med-student driven program was implemented in partnership with BEST (Backstretch Employee Services Team) organization, a dynamic nonprofit which provides free health and social services to the Backstretch communities at the Belmont, Aqueduct and Saratoga Springs Racetracks. In fact, the School of Medicine is the first medical school in the New York metro area and the region to work with BEST to expand efforts for racetrack employees in need.
"It's an opportunity to listen and learn from this population about issues and respond based on their perspective, rather than presume or dictate what we think should be done to help," said Adam Aponte (pictured above), MD, School of Medicine assistant dean of diversity and inclusion and project organizer who is working to secure funding to turn the community service pilot into an integral part of the medical school curriculum.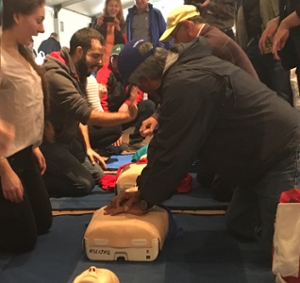 During weekly visits to Belmont, School of Medicine students led organized group sessions that covered critical health and wellness topics for Backstretch workers, such as proper self-care including proper handwashing, healthy eating, wound care, and other preventative measures.  In addition, students provided instruction on emergency response, including Hands-Only CPR training (shown left) offered regularly to workers at BEST-sponsored health fairs at Belmont and Saratoga venues.  Fitness and nutrition was also an integral part of the agenda, including planting of a garden by students and laborers at Belmont to promote access to safe, healthy grab-and-go food options for Backstretch employees--who have assumed responsibility for maintaining and planting the next spring crop.
An engraved commemorative plaque marking the garden and honoring the collective contributions of all involved in the effort is planned for placement in spring 2016.
"The workers at Belmont have come to trust and rely on us because we take the time to learn about them as a group and as individuals," said second-year med student Hugo Ortega (pictured above), among the four program kick starters. "Their needs are acknowledged and we learn a great deal from them too."
Meanwhile, Dr. Aponte and participant medical students hope to maintain the program and the momentum as a result of their summer research activities and positive results thus far. In fact, this learning project that started as a pilot program of a few aspiring doctors has grown into a year-round community service activity involving many from the student body--and is another example of the School of Medicine's strong commitment to promoting compassion and humanity in medicine.
"We're able to connect with this underserved population within their own environment, and teach them how to gain access to resources," said Dr. Aponte. "Hopefully, we can bridge understanding across all communities."
For more information about student research activities and community service, humanities in medicine, diversity and inclusion, and other programs offered at the School of Medicine, visit www.medicine.hofstra.edu.