Media Contact:
Adrienne Stoller
Office of Communications
Hofstra Northwell School of Medicine
Phone:
516-463-7585
Send an E-mail
Date: May 10, 2016
Second to None
Hofstra Northwell School of Medicine Celebrates the Class of 2016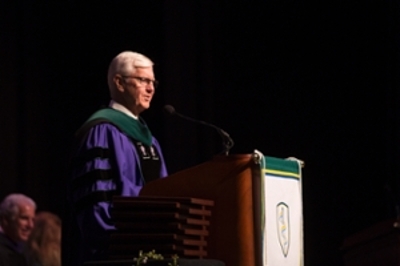 Dean Lawrence G. Smith addresses the Class of 2016
The second class of the Hofstra Northwell School of Medicine became the nation's newest doctors and scientists at a commencement ceremony held on Monday, May 9 at the John Cranford Adams Playhouse at Hofstra University.  Degree recipients included 58 MDs and one PhD.
VIEW HOFSTRA NORTHWELL COMMENCEMENT VIDEO
"Medical school is hard, there were times I thought about retreating," said Benny Chen, MD, along with Hannah Hoffman, MD, two graduates chosen by their peers to address the Class of 2016. "But I'm here today because of this community--they made studying fun, they made the wards an easier place, and they made facing and learning about death a little bit more tolerant."
Hofstra Northwell's second graduating class is a diverse group of men and women with varied backgrounds and inspiring stories, including military vets who decided to put their years of training and service toward a career in medicine; students who spent their final months of medical study in Uganda; a 45-year-old former sales rep and single father who finally realized a lifelong dream; and a rising student star in biomedical research who has led The Feinstein Institute investigations in 3D printing technology and tissue engineering--a breakthrough that will revolutionize healthcare delivery.
During the ceremony, 16 graduates received awards of special merit, including graduation with distinction in research; academic department honors; the faculty council award for leadership and service; the Dean's recognition; and the Branson Sparks Humanism Award, named in memoriam after a student in Hofstra Northwell's inaugural Class of 2015.
Commencement proceedings were presided by Lawrence G. Smith, MD, MACP, Dean of the School of Medicine; Stuart Rabinowitz, JD, President of Hofstra University; and Michael Dowling, President and CEO of Northwell Health.  David Battinelli, MD, Dean for Medical Education, gave the keynote address.
"A positive attitude will carry you far, I know you will accomplish great things," said Dr. Battinelli in closing. "Remember, it's not about who you know, but who knows you."
In July, Hofstra Northwell graduates will begin the next phase of their training within top institutions such as Yale New Haven and Hospital of the University of Pennsylvania. More than half will remain in the eastern region for residency, including many at Northwell Health, while others journey to centers throughout the country.