Media Contact:
Adrienne M. Stoller, MA
Office of Communications
School of Medicine
Phone:
516-463-7585
Send an E-mail
Date: May 05, 2015
From Student-Pioneers to New Physicians
First Graduating Class of the Hofstra North Shore-LIJ School of Medicine Sets the Standard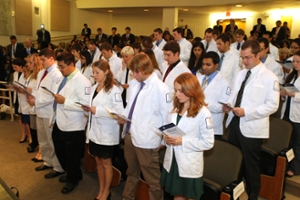 Inaugural Class White Coat Ceremony (Fall 2011)
A long-anticipated day will arrive with much fanfare on Monday, May 11, 2015 at 11:00 am when 30 students from the first class of the Hofstra North Shore-LIJ School of Medicine become the nation's newest doctors and scientists.  Commencement will be held at the John Cranford Adams Playhouse at Hofstra University followed by a reception at the School of Medicine.
"Every graduating class is special, but a medical school's charter class is truly distinctive," said Lawrence G. Smith, MD, MACP, founding dean of the School of Medicine. "These students are confident self-starters whose participation helped us to shape and refine the cutting-edge curriculum that would make the School of Medicine a leading center for medical education in the 21st century."
In August 2011 the School of Medicine's inaugural class began its journey to becoming physicians, scientists, and pioneers of a new approach to medical education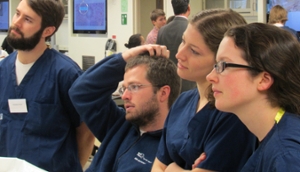 . The students took a chance on an untested yet innovative curriculum that challenges traditional methods of training by combining basic science with clinical experience, patient interaction, interdisciplinary teamwork and community service—beginning on the first day of medical school. 
 "I think we all realized the potential risks and benefits of being at a new medical school, and some of us were more apprehensive than others," said Daniel Ohngemach, a member of the charter class who will train for a year in internal medicine before beginning a residency in radiology at North Shore-LIJ Health System. "But I knew that if I stayed true to myself, I would graduate a well-trained physician."
AJ Blood, a fellow graduate and student council past-president, agrees. "I looked at the track record of these institutions [North Shore-LIJ and Hofstra University] and the leadership brought in to begin the School of Medicine, and I saw an amazing opportunity," said Blood who is heading to Duke University for training in internal medicine. "I knew that far from a risk, I was being offered a chance to get in at the ground floor of the 'Google' of medical schools."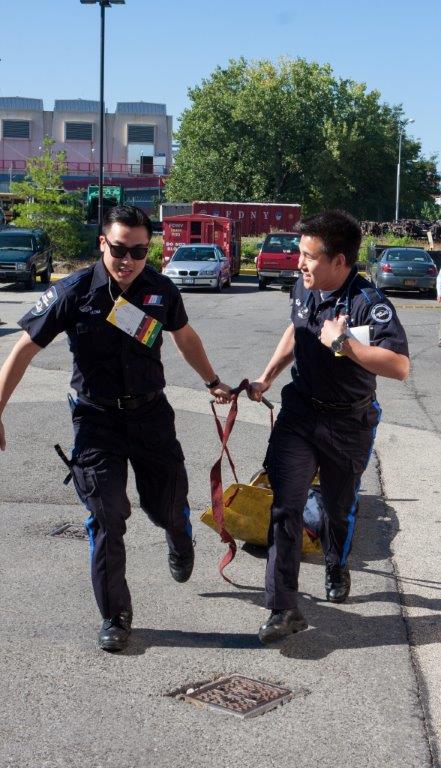 The School of Medicine charter class has set the standard for incoming students by exceeding state and national averages on admissions criteria such as undergraduate GPAs and medical college admissions tests (MCAT) and on medical licensing exams. Recently, the class secured 100% residency placements at some of the country's top institutions during the largest national Residency Match Day ever held.  Following commencement, the newly minted physicians will start their post-graduate work in places both close to home and across the country within a variety of specialty areas, ranging from internal medicine and pediatrics to emergency medicine, orthopedic surgery and psychiatry.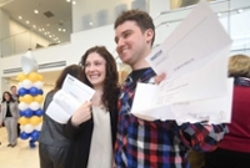 "The faculty and staff are incredibly supportive and engaged in the students' development," said Samantha Ruff, a prospective graduate looking forward to training in surgery at North Shore-LIJ.  "Throughout my four years, there was never a shortage of faculty ready and willing to support me and my career."
The first graduation day is the culmination of many milestones for the School of Medicine this year, including the opening of a new state-of-the-art facility and receiving full accreditation from the Liaison Committee on Medical Education (LCME), an important designation for meeting strict national standards in medical education.  Established in 2008, the School of Medicine is the first allopathic medical school to open in New York State in more than 40 years. The institution has 2,200 faculty and approximately 280 students, a roster that is expected to grow to 400 by 2016.