Allireza Alloo, MD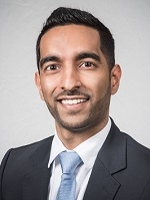 Dr. Allireza Alloo is a board certified dermatologist and Assistant Professor of Dermatology at the Donald and Barbara Zucker School of Medicine.  He is also the Associate Program Director for the Dermatology Residency Training Program as well as the Co-Director of the Inpatient Consultation Service at Northwell Health. 
Dr. Alloo graduated from Columbia University with a Bachelor of Arts in Neuroscience and Behavior and went on to attend medical school at Harvard Medical School. He completed his dermatology training at the Harvard Combined Dermatology Residency Program, where he served as Chief Resident in his final year.
Dr. Alloo's clinical and research interests include complex medical dermatology, inpatient dermatology, autoimmune blistering diseases, and cutaneous toxicities to chemotherapy. Dr. Alloo belongs to various organizations including the American Academy of Dermatology, the Association of Professors in Dermatology, the Society of Dermatology Hospitalists, and the Medical Dermatology Society. He has published numerous articles in peer-reviewed literature, authored several book chapters, as well as given talks at local, regional, and national dermatology conferences.
Dr. Alloo is otherwise dedicated to improving access to dermatologic care for the underserved, participating in community service, and enhancing resident and medical student education and mentorship within dermatology. In his spare time, he enjoys playing sports, traveling, and spending time with his family.