Amit Garg, MD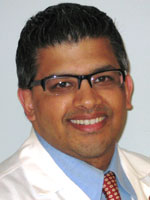 Dr. Amit Garg is Professor and Founding Chairman for the Department of Dermatology at the Zucker School of Medicine. He also serves as the Senior Vice President of the Dermatology Service Line at Northwell Health. He is board certified in Dermatology by the American Board of Dermatology. He has held full-time faculty positions at the University of Massachusetts Medical School and at the Boston University School of Medicine, where he directed the Residency Training Program in Dermatology as well as the curriculum in dermatology for the school of medicine.
Dr. Garg has achieved international recognition as a thought leader in medical dermatology and as a medical educator. His subspecialty expertise is interdisciplinary based in caring for patients with autoimmune and inflammatory conditions including psoriasis, hidradenitis suppurativa, lupus, dermatomyositis, and vasculitis.
Dr. Garg's research interests include developing measurement instruments and assessing clinical and patient centered outcomes in psoriasis and hidradenitis suppurativa. He has made several key epidemiologic observations related to disease burden and co-morbidities in hidradenitis suppurativa. Dr. Garg has also developed innovative teaching strategies to improve training and education outcomes. His past research focused on improving teaching and assessment methods in undergraduate and graduate medical education, as well as narrowing the practice gaps related to the skin cancer examination through increasing awareness of high risk patient groups, promoting integration of the skin cancer exam into the routine or focused physical exam, and enabling detection of suspicious pigmented lesions.
Dr. Garg has held leadership roles within prominent national professional organizations, including the American Academy of Dermatology, the American Board of Dermatology, the Association of Professors of Dermatology, the Medical Dermatological Society, the National Psoriasis Foundation, the Hidradenitis Suppurativa Foundation, the Group for Research and Assessment of Psoriasis and Psoriatic Arthritis, and the International Dermatology Outcome Measures group. He is a member of Dermatology's Residency Review Committee of Accreditation Counsel of Graduate Medical Education.
Dr. Garg has served on editorial boards for journals as well as American Academy of Dermatology based publications. He is also the editor-in-chief of the forthcoming first edition book on Rheumatic Skin Diseases. He has published a number of articles in the peer-reviewed literature and has authored several book chapters. Dr. Garg has been awarded the 2016 Thomas G. Pearson, EdD Memorial Education Award by the American Academy of Dermatology.