Emil Adamec, MD, PhD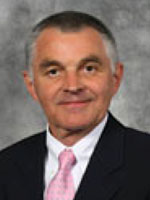 Professor, Science Education
MD, 1977, Universitas Carolina School of Medicine; PhD, 1994, Boston University School of Medicine
Research and Interests
Neurobiology and neuropathology. Novel approaches to medical education.
Emil Adamec, M.D., Ph.D. graduated from Universitas Carolina School of Medicine (M.D.) and Boston University School of Medicine (Ph.D.). Following research training at the Massachusetts General Hospital, he joined the Department of Psychiatry at Harvard Medical School as a member of professional staff of McLean Hospital, Belmont, MA. His laboratory pursued original research in molecular neurobiology and neuropathology of neurodegenerative diseases. His work was funded by the National Institute of Health and the Massachusetts Alzheimer Disease Research Center. His studies were published in peer-reviewed journals, such as Neuroscience, Brain Research, Journal of Neurological Sciences, and Acta Neuropathologica. He is a Regular Member of the Society for Neuroscience. Additionally, he also held an appointment for a number of years on Adjunct Faculty at Northeastern University. Since 2003 he helped to established several new medical programs with focus on small group and active learning approaches. His latest appointment was as a Professor at the Medical Partnership of the University of Georgia and the Medical College of Georgia in Athens, GA.