Taranjeet Ahuja, DO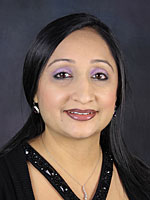 Assistant Professor, Science Education & Pediatrics
Director, Initial Clinical Experience (ICE) & Advanced Clinical Experience (ACE) Continuity Clinic
DO, New York College of Osteopathic Medicine, NY
Pediatric Residency, Stony Brook University Hospital, Stony Brook, NY
Pediatric Chief Residency, Stony Brook University Hospital, Stony Brook, NY
Research and Interests:
Dr. Taranjeet Ahuja received her Doctor of Osteopathic Medicine degree from the New York College of Osteopathic Medicine.  She completed her pediatric residency at the Stony Brook University Hospital in Stony Brook, New York. While there, she was named chief pediatric resident and became highly recognized for her skills not only as a clinician, but also an educator. 
Following time in private practice, Dr. Ahuja assumed a position in academics as an assistant professor of science education & pediatrics at the Hofstra Northwell School of Medicine.  In this role, she is the Director of the Initial Clinical Experience (ICE), part of the first 100 weeks curriculum that affords students direct, meaningful patient responsibilities while learning to apply scientific, social, and behavioral patient care principles. Additionally, Dr. Ahuja teaches physical diagnosis as well as communications. She also serves as a facilitator of PEARLS, a course designed to help students learn the key concepts of biomedical science embedded in real patient cases.  Lastly, she is the Director of the continuity clinic component of the Advanced Clinical Experience, which provides the outpatient longitudinal experience in the MS 3 year.
Dr. Ahuja has given numerous presentations on topics in pediatric medicine, including obesity, ethics, trauma treatment and prevention. She is board certified by the American Board of Pediatrics and is a member of the American Academy of Pediatrics, Association of American Medical Colleges, as well as the International Association of Medical Science Educators.