Janice Thomas John, DO, MS, MPH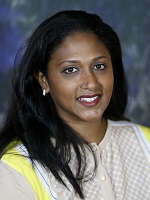 DO, Texas College of Osteopathic Medicine, University of North Texas (UNT) Health Science Center, Fort Worth, Texas
MS, Graduate School of Biomedical Sciences, UNT Health Science Center, Fort Worth, Texas
MPH, Public Health-Evaluative Sciences, Stony Brook Hospital, State University of New York
Dr. Janice T. John is assistant professor of science education at the Hofstra Northwell School of Medicine.  For both first- and second-year medical students, she teaches courses in communications and physical diagnosis and serves as a facilitator for PEARLS (Patient-Centered Explorations in Active Reasoning, Learning, and Synthesis), part of the School of Medicine curriculum that entails case study discussions designed to help students learn the key concepts of biomedical science embedded in real patient cases. 
Dr. John began her career in education as a high school speech communications teacher and debate coach, after receiving an undergraduate degree in speech communications and biology from Houston Baptist University, in Houston, Texas. She then pursued a doctor of osteopathic medicine degree at the Texas College of Osteopathic Medicine. While in medical school, she was selected to complete a pre-doctoral fellowship during which time she earned a master of science degree in clinical research and education at the University of North Texas Health Science Center, Graduate School of Biomedical Sciences, in Fort Worth. Her medical training continued on the East Coast with a pediatric residency at the Stony Brook Hospital, State University of New York.  In preparation for a future career in academia, she also completed a general academic pediatric fellowship at Stony Brook Hospital and received her master of public health degree from Stony Brook University.
Following her pediatric residency in 2009, Dr. John quickly advanced to become clinical assistant professor from 2011-2014 and served as director of the Keeping Families Healthy Program, a community outreach initiative (funded by the New York State Department of Health; co-created by Dr. John and an interdisciplinary team) designed to increase communication between the physician, family, and interdisciplinary team, as well as to enhance patient and family education, improve compliance, and empower patients and their families.  In 2014, she joined the Hofstra Northwell School of Medicine as a PEARLS facilitator for first-year medical students.
Dr. John's research and publications focus on patient safety, general pediatrics and public health interventions that support families.  She has served within various professional networks, conferences, and committees, often assuming leadership roles to promote mentoring of trainees and enhance medical education.  A family and community health advocate, she is also an active participant in and organizer of programs that emphasize improvements in patient education, access and empowerment.