Robert Lucito, PhD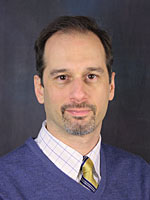 Assistant Professor, Science Education

PhD, New York University, 1994

Research and Interests:
Dr. Lucito received his PhD at NYU Sackler Institute working on hepatitis B virus. One aspect of this work led to his life long interest in cancer biology with a specific focus in genomics. After postdoctoral work he took an Assistant Professor position at Cold Spring Harbor Laboratory. For over 10 years, his laboratory studied genomic aberrations found in cancer genomes. The genomic aberrations identified served two purposes. First, they were used as markers for diagnosis and prognosis for survival and also therapy resistance. Second the genomic aberrations were used to identify mutated cancer genes and functionally characterize their specific role in carcinogenesis. He continues this work focusing on informatic approaches to understanding cancer development, progression and therapy resistance.
Dr. Lucito joined the Hofstra Northwell School of Medicine in 2012. He is co-course director for The Biologic Imperative and Fueling The Body. He is a member of the Research Advisory Committee and the 2012-2015 elected member of the Faculty Council and the Hofstra Faculty Senate representing the School of Medicine.