Li Ma, MD, PhD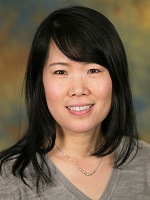 Assistant Professor, Science Education
MD, Beijing Medical University, China
PhD, University of Hong Kong, China
Research and Interests:
Dr. Li Ma is an Assistant Professor of Physiology/Pharmacology at the Hofstra Northwell School of Medicine. She received her MD degree from Beijing Medical University. Upon graduation, she obtained a faculty position teaching Pharmacology in the same medical university. She then pursued a PhD degree at the University of Hong Kong, where she also served as a teaching assistant in Pharmacology.
Prior to joining the faculty of Hofstra Northwell School of Medicine, Dr. Ma has dedicated herself for over 15 years to basic and translational research. Her research interests include gastric ulcer healing, angiogenesis, tumor biology and cancer therapy. She has authored and coauthored roughly 40 research articles, as well as several book chapters.
In addition to her teaching and research activities, Dr. Ma has served as research mentor to both undergraduate and graduate students.