Melissa Pawelczak, MD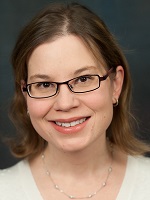 Assistant Professor, Science Education and Pediatrics
Co-Director, the Advanced Clinical Experience
MD, STATE UNIVERSITY OF NEW YORK AT STONY BROOK SCHOOL OF MEDICINE, Stony Brook, NY
NEW YORK UNIVERSITY SCHOOL OF MEDICINE, New York, NY
Division of Pediatric Endocrinology
Pediatric Endocrinology Fellow, July, 2007-February, 2011
Research and Interests:
Dr. Melissa Pawelczak is an Assistant Professor of Science Education and Pediatrics at the Hofstra Northwell School of Medicine's Department of Science Education, where she is also Co-Director of the Advanced Clinical Experience. She began at the School of Medicine as a facilitator for patient-centered explorations in active reasoning, learning and synthesis. 
A graduate of Hofstra University with a BA in biology, Dr. Pawelczak earned a medical degree from the State University of New York at Stony Brook School of Medicine in 2003. She completed her residency training at Stony Brook University Medical Center where she was named Chief Resident in Pediatrics. Her post-graduate training continued as a fellow in Pediatric Endocrinology at New York University School of Medicine followed by an academic appointment at New York Medical College as an Assistant Professor of Pediatrics. She is board certified in Pediatrics and Pediatric Endocrinology. 
An invited presenter and author of numerous peer-reviewed articles, Dr. Pawelczak's research has centered on pediatric and adolescent endocrine issues. Areas of interest include polycystic ovary syndrome, diabetes mellitus, and childhood thyroid carcinoma.  She is an active member of the Endocrine Society, the world's oldest and largest organization devoted to research on hormones and the clinical practice of endocrinology.  Current research endeavors at the School of Medicine focus on Entrustable Professional Activites in undergraduate medical education.