Reflective Practice: A Lifelong Learning Tool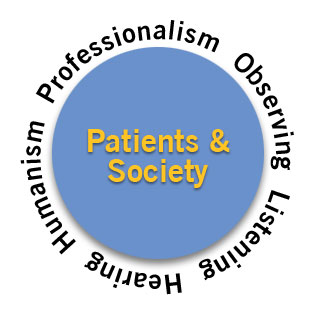 Reflective practice is an emerging interdisciplinary field at the crossroads of medicine, the arts and sciences. It is a tool utilizing writing, art and other creative practices to enable members of the health care team to process information about self, patients and colleagues with an eye towards personal growth and more intelligent and compassionate medical practice in health care settings. Through the practice of reflection, students, faculty and health care professionals are able to more fully "attend" to patients and their narratives. They also learn to attend to – and become cognizant of – their own reactions to patients, their medical practices, and their social function within the health-care setting.
It is the shared goal of the faculty of the Hofstra North Shore-LIJ School of Medicine to teach narrative competence and facilitate reflection to help build accurate self-awareness, enhance the quality of relationships and promote professionalism. Reflective practice is integrated throughout the four-year curriculum offering a way to process the patient/health professional relationship and the student and professional experience. The goal is to nourish compassion, respect and responsibility and foster self-reflection as the student transforms from person to professional.
See the School of Medicine's literary journal, The Narrateur: Reflections on Caring. The literary journal will aspire to nurture the voices of health practitioners (both students and staff) as they grapple with the care of their patients, the decisions they must make, their reactions to those decisions, and the outcomes. Narrateur will give voice to the challenges and the celebrations of patient care. Narrateur serves to reflect the practice of medicine on the printed page and to provide a home for the health practitioner to express, experience, respect and show compassion for patient-centered care.