Safe Start
The Zucker School of Medicine Reopening Committee has been working closely with Hofstra University and Northwell Health to develop protocols that align with local, state and federal public health guidelines and preserve the best of the Zucker School of Medicine experience while minimizing risk to our entire community. Fall 2020 will be different in many ways, and our plans are a work in progress because the public health situation locally and nationally continues to evolve. This website will be a critical source of information and it will be updated regularly as additional details become available.
ZSOM COVID-19 Guidelines

The purpose of these guidelines is to define the operational expectations of all faculty members, staff members, students, and visitors of the Zucker School of Medicine (ZSOM) while inside the ZSOM facility.
Masks are required in all areas of our building, except in the following circumstances:


If you are alone* in an office, conference room, classroom, or study room;
If you are in a designated eating area and at least six feet apart from others;
If you are outside and at least six feet apart from others.
Please note*: if you are alone in an office, conference room, classroom, or study room, and another person approaches to enter, you must apply your mask immediately, so please keep your mask with you and readily available at all times when you are in the ZSOM building

Every person is expected to remain at least six feet apart from others whenever possible.
Every person is required to wear a Northwell Health ID or Hofstra University ID in a visible place (i.e., around a neck lanyard, on a shirt).
Every person is expected to practice good hand hygiene by washing hands frequently with soap and water or using an alcohol-based sanitizing solution.
Every person is expected to comply with the maximum occupancy rules. The maximum occupancy in any particular room will be limited based on the size of the room and the room layout. The maximum occupancy of each room will be noted on the door of the room.
Every person is required to complete a health screening questionnaire each day they come to campus (employees can find the health screening questionnaire on the Hofstra portal – see FAQs for more information).
Mask Requirements:
Cloth masks must have two layers of cloth with a filter in between and they must be washed daily. Procedure masks, surgical masks, and N95 masks are all acceptable. Bandanas and scarves do not meet the ZSOM's requirement. Masks with a valve or vent will not be permitted.
SOM building is not open to visitors.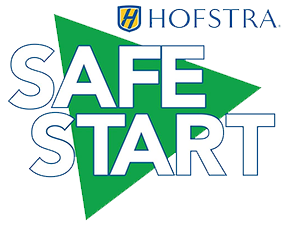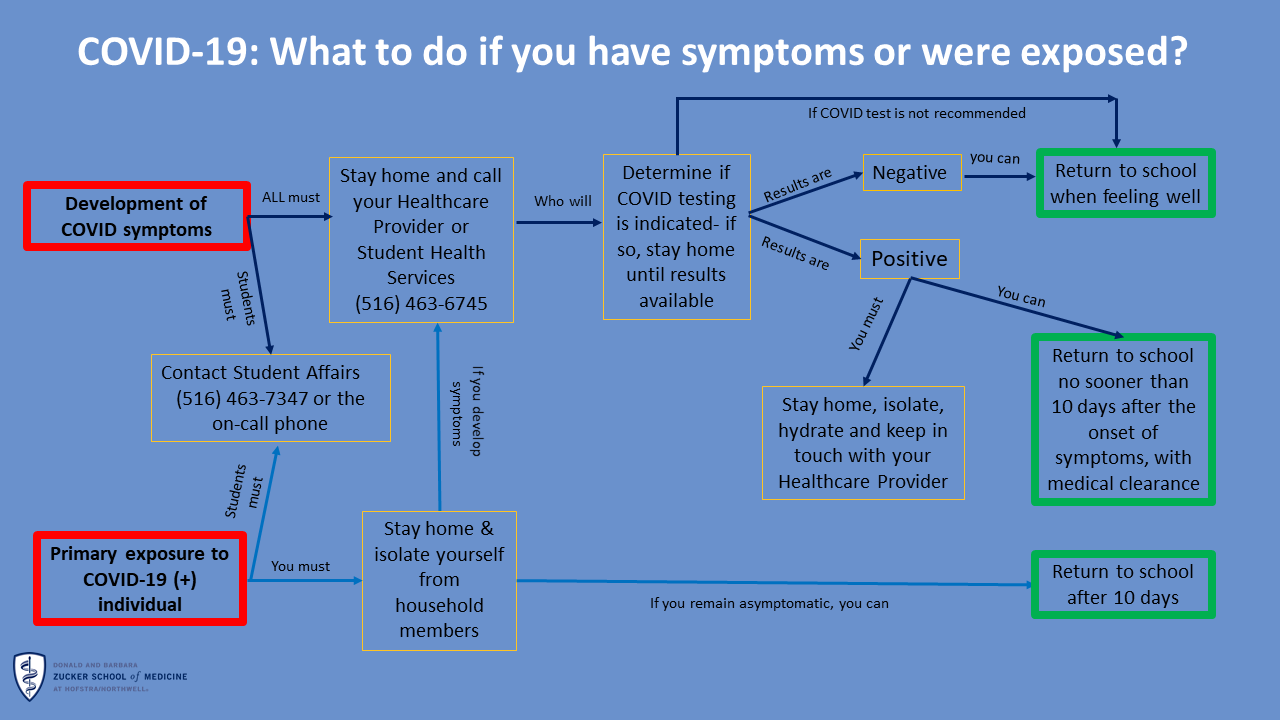 ---
Six Pillars of Health & Safety
HYGIENE
Proper hand hygiene and keeping your work environment clean can reduce the risk of contracting COVID-19!
Wash hands with warm water and soap for 20 seconds, clean all surfaces including between your fingers and under your nails.
Use hand sanitizer when you are unable to wash your hands.
Clean your workspace with sanitizing wipes at least once a day.
FACE MASKS
Face masks can greatly reduce the risk of COVID-19 transmission!
Face masks are only effective if everyone wears one.
Face masks must cover your mouth and your nose.

Face masks are ineffective if only covering the mouth OR the nose.
SOCIAL DISTANCING
Social distancing can reduce risk of contracting and/or transmitting COVID-19!
The virus that causes COVID-19 is spread predominately through respiratory droplets.
When near others, kindly remind them to say about six feet away

Remember to social distance when you are away from your workspace.
SELF-MONITORING
Self-monitoring can reduce risk of transmitting COVID-19!
Know the signs and symptoms most commonly associated with COVID-19.

Fever, cough, sore throat, etc.

Complete daily screening tool each day before coming to campus.
Stay home if you are having any signs or symptoms of COVID-19 or are unwell.
TESTING/CONTACT TRACING
Testing and contact tracing can reduce the transmission of COVID-19!
There are two types of testing available for COVID-19:

Nasal swab - viral testing or diagnostic testing to see if you are currently infected.
Antibody testing - detects immune proteins in your blood to see if you were previously infected.
CULTURE OF COMMUNITY
We are all in this together!
In order for our infection control measures to be effective, we need everyone to participate fully!
Talk with your supervisor or Student Affairs if you have any concerns about exposure or infection.
If you have traveled from within one of the designated states listed on the website, New York law requires you to quarantine when you enter New York for 14 days. The site also includes guidance on how to travel and quarantine safely. All students must comply with these guidelines for your own safety and for the safety of everyone in our Hofstra community.
You will be able to attend classes remotely if you need to comply with the travel advisory.
Learn more about the New York State COVID-19 Travel Advisory.
Visit Hofstra University's Safe Start Website
The same guidelines apply (mandatory masks, social distancing, and hand hygiene). For any discrepancies between Hofstra and SOM, medical students are to follow the SOM guidelines and procedures
---
Fall 2020 FAQs
Additional Information