Participation in Curriculum Renewal
CURRICULUM RENEWAL: COURAGE TO CHANGE
It has been almost 15 years since the Zucker School of Medicine set out to transform the way medicine is taught and learned. Over the past decade and a half, the school's unique curriculum, with its case/problem-based learning, small group sessions, and hands-on approach, has helped students sharpen their critical thinking, develop clinical skills, and prepare for the challenges of meeting the needs of our population.
However, a lot has changed in the relatively short time since the Zucker School of Medicine graduated its first class in 2015. We have seen advancements in all areas, including the delivery of healthcare, and the COVID pandemic exposed the inequity of the healthcare system, forcing us to examine how we at the ZSOM are addressing the community's healthcare needs.
In 2008, when we launched our mission to prepare the next generation of physicians, we thoroughly examined and defined tomorrow's healthcare climate. Today, we ask you to join us on a new journey called Curriculum Renewal: Courage to Change. Together, we will assess our accomplishments, imagine the future, and build upon our firm foundation by addressing emerging societal trends, innovations in healthcare and technology, meeting the needs of future learners and educators and most importantly, our patients. Curriculum renewal will shape how we prepare our medical students for tomorrow's healthcare industry and inform the school's mission and vision into 2035 and beyond. 
Your dedication and commitment are critical to the success of our school and future healthcare professionals, and we look forward to your continued support and participation as we embark on this engaging journey together.
David Battinelli, MD
Dean, Zucker School of Medicine
Samara Ginzburg, MD
Vice Dean & Dean for Education, Zucker School of Medicine
Lawrence G. Smith, MD, MACP
Founding Dean, Zucker School of Medicine
Image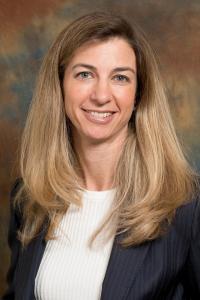 Dr. Samara Ginzburg, Vice Dean and Dean for Education discusses Curriculum Renewal and why it is important.
The Donald and Barbara Zucker School of Medicine at Hofstra/Northwell held its Curriculum Renewal Summer Retreat in-person at the medical school on June 20 and remotely on June 22, taking the next step in evaluating the competencies needed by its future doctors. More than 60 faculty, students, alums, and staff members from the School of Medicine, Hofstra University, and Northwell Health community attended the half-day brainstorming sessions co-facilitated by Matthew Whitson, MD, MSEd, assistant professor of Medicine and Gastroenterology Fellowship director at the Zucker School of Medicine, and Annalise Ellis, MHA, MSEd, assistant dean for Academic Support and Administration. Click here to read more! 
ZSOM recognizes the need to continuously evolve and adapt to the changing landscape, and we believe that a cutting-edge curriculum is essential for the growth and success of our institution and its students.
With that spirit in mind, this past July, ZSOM invited all students, faculty, staff, and IPE colleagues who have a passion for education, a keen eye for creativity, and a desire to contribute to our shared goals to submit a refreshed curriculum design.
There were several entries that are currently being synthesized and prepared for feedback from the community. Keep an eye on your emails to be able to participate!
Over the course of six months, three working groups comprised of over 120 students, faculty, staff, and alumni tackled broad questions that will inform the next phase of the Curriculum Renewal Initiative. The Constructs team discussed innovative aspects of structuring curricula, the Outputs Team researched frameworks and methods that best showcase evidence of skills and demonstration of character, and the Technology Team discussed technologies that can enhance the learner experience. Click below to view a video on each team.
A summary of their work can be viewed here
---
FINAL REPORTS
Image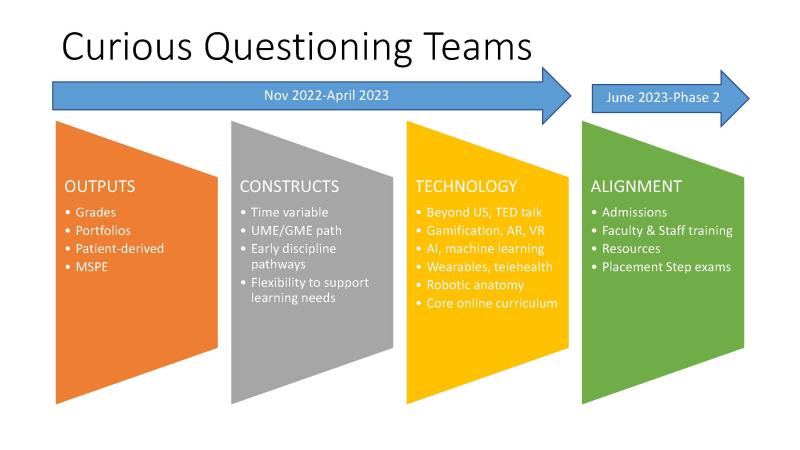 Throughout the Curriculum Renewal process, ZSOM will be inviting speakers to engage in discussion, stimulate creative thought, and deliver content that will help set a foundation for analysis, reflection, and inspiration as we journey to a renewed curriculum.
Please join us for the following Curriculum Renewal Speaker Series events.
Image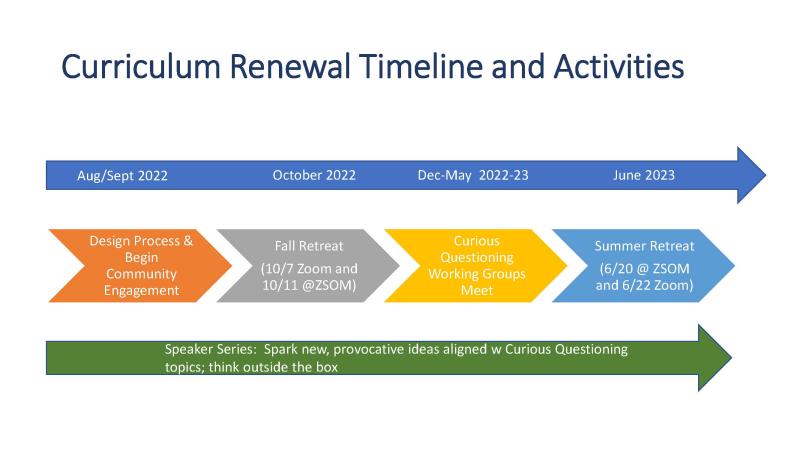 It's not too late to participate in our Curriculum Renewal initiative. You can watch and interact with all past events: Speaker Series, Town Hall, and Fall Retreat. Click here to view past event information.
Curriculum Renewal
Steering Committee
Comprised of faculty, staff, and educational leadership, the Curriculum Renewal Steering Committee will be coordinating this endeavor through their involvement in subcommittees, critical thinking, and advising the dean of final recommendations.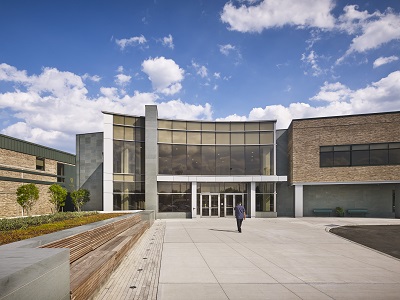 For Questions