COVID-19 Updates
The Zucker School of Medicine continues working closely with Hofstra University and Northwell Health to develop and refine protocols in compliance with federal, state and local public health guidelines and preserve the best of the Zucker School of Medicine experience while minimizing COVID-19 risk to our entire community. We remain committed to maintaining a learning environment that supports our students emotionally and intellectually and that aligns with the Zucker School of Medicine principles. This website will continue to be a critical source of information and will be updated regularly as the circumstances surrounding Covid-19 continue to evolve.
ZSOM COVID-19 Guidelines

The purpose of these guidelines is to define the operational expectations of all faculty members, staff members, students, and visitors of the Zucker School of Medicine (ZSOM) while inside the ZSOM facility.
Masks are required in all areas of our building, except in the following circumstances:


If you are alone* in an office, conference room, classroom, or study room;
If you are in a designated eating area and at least six feet apart from others;
If you are outside and at least six feet apart from others.
Please note*: if you are alone in an office, conference room, classroom, or study room, and another person approaches to enter, you must apply your mask immediately, so please keep your mask with you and readily available at all times when you are in the ZSOM building

Every person is expected to remain at least six feet apart from others whenever possible.
Every person is required to wear a Northwell Health ID or Hofstra University ID in a visible place (i.e., around a neck lanyard, on a shirt).
Every person is expected to practice good hand hygiene by washing hands frequently with soap and water or using an alcohol-based sanitizing solution.
Every person is expected to comply with the maximum occupancy rules. The maximum occupancy in any particular room will be limited based on the size of the room and the room layout. The maximum occupancy of each room will be noted on the door of the room.
Every person is required to complete a health screening questionnaire each day they come to campus (employees can find the health screening questionnaire on the Hofstra portal – see FAQs for more information).
Mask Requirements:
Cloth masks must have two layers of cloth with a filter in between and they must be washed daily. Procedure masks, surgical masks, and N95 masks are all acceptable. Bandanas and scarves do not meet the ZSOM's requirement. Masks with a valve or vent will not be permitted.
SOM building is not open to visitors.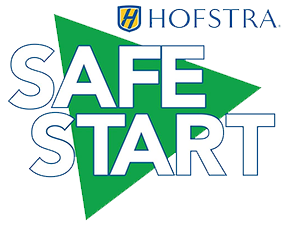 New York State travel guidelines have been updated. Governor Andrew M. Cuomo has announced new guidelines allowing travelers to New York to "test out" of the mandatory 10-day quarantine for asymptomatic individuals. Travelers from states that are contiguous with New York are exempt from the travel advisory; however covered travelers must continue to fill out the Traveler Health Form. The guidance also applies to any person who has traveled to CDC Levels 2 and higher Health Notice country under the COVID risk assessment and can be found at NY State COVID-19 Travel Advisory

All students must comply with these guidelines for their own safety and for the safety of everyone in our ZSOM community.
All ZSOM classes will be virtual from January 4-15th.  All students should be local during this time period.