Curriculum Renewal
Past Events
Past Events
It's not too late to stay informed about ZSOM's Curriculum Renewal's past events. Click the event topics below to view summaries, recordings, and details.
Drs. David Battinelli and Samara Ginzburg provided a Curriculum Renewal overview/update at the department meetings listed below. Please contact your department administrator for more details.
   
Department   
   
Meeting Type   
   
Dates   
   
Format   
   
Medicine   
   
Chairs and Division Chiefs   Meeting   
   
10/13; 11 am   
   
Virtual    
   
Surgery    
   
Full Faculty Meeting   
   
10/13; 4pm   
   
In-person   
   
Peds   
   
Faculty Meeting   
   
10/28; 7:30am   
   
Virtual    
   
OB   
   
Grand Rounds   
   
11/2; 8am   
   
Virtual    
   
Psych   
   
Grand Rounds   
   
11/2; 11am   
   
Virtual   
   
Neurology    
   
Faculty Meeting   
   
11/17; 5:30pm   
   
Virtual    
   
PM&R   
   
Faculty Meeting   
   
12/5; 7am   
   
Virtual   
On June 7th, 2022, nearly 200 students, alumni, faculty, and staff participated in a town hall that outlined the operations, goals, and vision for the curriculum renewal process. Concluding with a Q&A from attendees, the town hall was an exciting first step in engaging stakeholders across ZSOM and Northwell Health.
Missed the Curriculum Renewal Town Hall? Watch the recording here.
On Monday, June 12th, over 160 members of the ZSOM community gathered to hear about the progress of the Curriculum Renewal initiative that included: a year-in-review, Curious Questioning Teams report out, an update from a patient voices focus group, and the announcement of a request for proposals for a refreshed curriculum design.
Image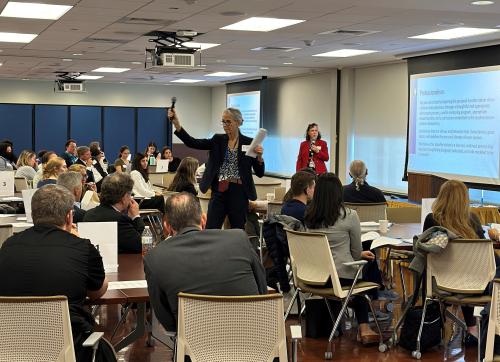 On October 7 & 11, 2022, Drs. Ellen Pearlman and Joanne Willey led the online and in-person Curriculum Renewal Fall Retreat with a combined attendance of over 120 faculty, students, alums and staff members from the Zucker School of Medicine, Hofstra University and Northwell Health community. The retreat resulted in numerous creative and innovative ideas and suggestions that will be explored further by our Curious Questioning teams in the next phase of Curriculum Renewal. Read more.
The Hofstra University (HU) retreat took place on December 1, 2022, via Zoom. There were 30 participants consisting of HU leadership, staff, and students. Drs. Ellen Pearlman and Joanne Willey led discussions around three questions:
What kind of undergraduate premedical curricula would best prepare future medical students for medical education in 2035 and beyond?
What educational innovations have you made that you would recommend exporting to ZSOM?
What are potential areas for further inter-school, inter-departmental collaborations in the future?
The participants were incredibly thoughtful, and the discussion was expansive. ZSOM looks forward to continued collaboration with HU. If you or your colleagues would like to continue to be involved, please email somstrategy@hofstra.edu. 
For Questions